Mental Health Counselor License Requirements in Wyoming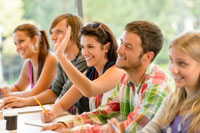 Wyoming mental health counselors are licensed by the Mental Health Professions Licensing Board. The Licensed Professional Counselor (LPC) license authorizes independent clinical practice. It is granted on the basis of graduate education, postgraduate supervised practice, and examination. A graduate may hold a provisional license and use the title "Provisional Professional Counselor" while working to meet examination and experience requirements.
While the scope of practice includes mental health practice, the LPC is a generalist license which may also be earned by rehabilitation counselors.
<!- mfunc feat_school ->
Sponsored School(s)
Featured Programs:
Pepperdine University Graduate School of Education and Psychology's Master of Arts in Clinical Psychology Licensed Professional Counselor track prepares a student to become a licensed professional counselor (LPC) in various states. Graduates will first pursue licensure as an associate professional clinical counselors (APCC). Click here to learn more about the Master of Arts in Clinical Psychology program at Pepperdine University.

---

Grand Canyon University

offers an M.S. in Clinical Mental Health Counseling with an Emphasis in Childhood and Adolescence Disorders; Christian Counseling; Marriage & Family Therapy and Trauma.

---

Arcadia University

offers an Online Graduate Certificate in Infant Toddler Mental Health.

Click here

to contact Arcadia University and request information about their programs.

---

Butler University

Positively Impact Lives with a Master's Degree in Counseling - Online Master of Science in Mental Health Counseling

---

Eastern Oregon University's

online MS in Clinical Mental Health Counseling program will help you learn to utilize complex critical thinking skills in the pursuit of fulfilling work in the industry of your choice.

---

Rivier University's

online Master of Arts in Clinical Mental Health Counseling degree program offers the framework and professional training needed to start a rewarding career as a licensed clinical mental health counselor.

---
<!- /mfunc feat_school ->
Select a Wyoming Mental Health Counselor (LPC) Licensure Topic:
Educational Requirements
A prospective LPC must earn a master's or doctoral degree from an accredited educational institution; the Wyoming Board will accept any accrediting agency recognized by the Council for Higher Education Accreditation, or CHEA (http://plboards.state.wy.us/mentalhealth/rulesregs.asp).
The program itself may be accredited by the Council for Accreditation of Counseling and Related Educational Programs (CACREP) or substantially equivalent to a CACREP-accredited program. The Board will also accept programs that are accredited by the Council on Rehabilitation Education (CORE) or deemed equivalent; CORE accreditation, however, is awarded to programs that emphasize rehabilitation counseling.
The minimum program length increased to 60 semester hours in July of 2013. Required coursework may be done as part of the graduate degree program or post-master. The following coursework must be included:
Helping relationships
Human growth and development
Cultural and social diversity
Assessment
Group work
Career development
Professional orientation/ ethical practice
Research and program evaluation
An applicant who is deficient in up to six semester hours of coursework may be granted a provisional license (http://plboards.state.wy.us/mentalhealth/pdf/RulesRegs/Chapter7.pdf). The graduate must have had practicum/ internship experience and met the professional practice/ ethics coursework requirement.
Supervised Experience
Counselors must work under administrative and clinical supervision until they have accrued at least 3,000 hours of clinical experience; at least 1,200 hours are to involve direct client contact (http://plboards.state.wy.us/mentalhealth/pdf/RulesRegs/Chapter7.pdf).
Before beginning post-degree practice, the graduate will apply for a provisional license. The provisional licensee will work under the supervision of a Designated Qualified Clinical Supervisor. The licensee will need at least an hour or individual or triadic face-to-face supervision for every 30 experience hours.
Supervisor and supervisee will both sign a supervision plan. Changes to the supervision plan must be submitted to the Board.
Supervision is to be accrued over a period of 18 to 36 months. The Board may grant an extension of the provisional licensure if the licensee provides satisfactory justification.
The supervisor will ultimately evaluate the supervisee before the Board, addressing factors such as professional relations, emotional stability, and adherence to ethical conduct. The provisional licensee will remain under supervision until such time as the permanent license has been issued.
The Examination Process
Candidates must pass an approved examination prior to full licensure at the LPC level. Wyoming will accept any of three licensing examinations. The National Board for Certified Counselors administers both the National Counselor Examination (NCE) and the National Clinical Mental Health Counseling Examination (NCMHCE). The examinations are now computer-delivered.
Wyoming testing sites include Casper, Cheyenne, and Green River (http://online.goamp.com/CandidateHome/displayTCList.aspx?pExamID=1111). Candidates may not schedule examinations until their credentials have been approved. A candidate will find links to examination resources on the 'Wyoming' page of the NBCC website (http://www.nbcc.org/directory/WY). The NBCC can be reached at 336-217-4111 or 'exam at cce-global.org'.
The Wyoming Board will allow up to three examination attempts. A fourth examination attempt may be allowed if the candidate has a remediation plan in place.
The Commission on Rehabilitation Counselor Certification (CRCC) examination is also accepted for licensing purpose; registration is limited to those who have backgrounds in rehabilitation counseling.
The Application Process
In-state candidates will apply for provisional licensure before completing supervised practice and for full licensure after meeting all requirements.
Candidates for provisional licensure will need to submit official transcripts. Those who did not graduate from CACREP- or CORE-accredited programs will perform self-evaluations of transcripts, identifying which courses met particular requirements.
The Board will require three recommendations from individuals who have known the applicant for at least six months.
The applicant will create a professional disclosure statement. The Board has provided a document outlining requirements, including particular statements that must be included.
A $150 fee is dues at the provisional level.
The counselor will submit a 'completing provisional" application and a revised professional disclosure statement at the LPC level. The applicant is expected to return the provisional license identification card or provide a suitable explanation if unable to do so. A $200 fee is due at the completion level.
The clinical supervisor will provide verification and evaluation directly to the Wyoming Board.
Applications may be downloaded from the Board website (http://plboards.state.wy.us/mentalhealth/instrguide.aspx). Applicants will need to attest to having read the rules and regulations (http://plboards.state.wy.us/mentalhealth/rulesregs.asp). They will need to document citizenship or other legal status. Those who answer "yes' to legal or disciplinary questions will need to attach supporting documentation such as court records. (Rules state that licensure will denied to individuals who have committed felonies or misdemeanors that involve 'moral turpitude' but the Board has the authority to grant exceptions.)
An applicant will receive email confirmation after initial materials have been received. The applicant may make up to two status inquiry email inquiries a week.
Out-of-State Counselors
Counselors who are licensed in good standing in other states and who were credentialed on the basis of substantially similar requirements may be granted reciprocity. The Board will require license certification verification, professional references, and documentation of citizenship or legal status.
The Application Review Committee may also request transcripts and details about coursework.
A candidate who submits an initial application at the LPC stage will pay a $350 fee.
Counselors who are determined to have deficiencies may be granted provisional licensure; provisional licensure will allow a counselor to begin providing services under supervision.
Mental Health Counseling Certification
Some Wyoming counselors pursue adjunct national certification as Certified Clinical Mental Health Counselors (CCMHCs); this does not change scope of practice in Wyoming.
The National Board for Certified Counselors awards the CCMHC credential (http://www.nbcc.org/Certification). Candidates take both the NCE and NCMHCE en route to certification.
Additional Information
The Wyoming Mental Health Professions Licensing Board (https://mentalhealth.wyo.gov/) can be reached by email at WyoMHPLB at wyo.gov.
Find Mental Health Counselor Licensure Requirements in Your State: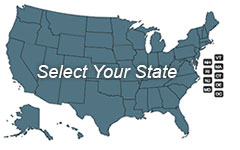 Learn about becoming a Mental Health Counselor in your state:
To View Full U.S. Map Click Here.