Social Media for Counselors: Ethics and Your Choices
"Why Can't We Be Friends?" The snippet of lyric carries new connotations in a digital age. In 2015, it is the title of a one-hour continuing education course offered by the American Counseling Association.
<!- mfunc feat_school ->
Sponsored School(s)
Featured Programs:

Capella University offers three online CACREP - accredited Master's programs: Clinical Mental Health Counseling, Marriage and Family Therapy and School Counseling. Click here to contact Capella University and request information about their programs.

---

Pepperdine University Graduate School of Education and Psychology's Master of Arts in Clinical Psychology Licensed Professional Counselor track prepares a student to become a licensed professional counselor (LPC) in various states. Graduates will first pursue licensure as an associate professional clinical counselors (APCC). Click here to learn more about the Master of Arts in Clinical Psychology program at Pepperdine University.

---
<!- /mfunc feat_school ->
It's official. Counselors and clients are advised not to friend each other in their virtual worlds. And the American Counseling Association (ACA) will tell you why: It's risky to agree to be friends. It can blur boundaries and create situations where privacy is lost.
It's risky to agree to be [social media] friends. It can blur boundaries and create situations where privacy is lost.
The ACA Code of Ethics was overhauled in 2014, the first revision since 2005. For the first time, a section is devoted to social media and other technology issues. The new version makes explicit reference to technologies throughout. (http://www.counseling.org/resources/aca-code-of-ethics.pdf)
Highlights of the 2014 Revision
The ACA Code of Ethics advises counselors who use social media (or provide distance counseling or employ other technologies) to educate themselves about their use. In other words, just as counselors have a responsibility to be knowledgeable about the therapies they employ, they have the responsibility to be knowledgeable about the technologies they use.
Counselors must also give their clients an opportunity to give informed consent. While this may be the first time this has stated in the ethics code, it is not the first time the advice has been repeated. Some professionals have advised therapists that social media policy be laid out in the professional disclosure statement. It can be so much easier to state what can and cannot be done up front than deal with awkward situations that arise later.
What else has been encoded for the first time? Counselors may maintain both a personal and public online presence but are advised to have separate pages and profiles.
What about Googling clients or visiting their profiles unbidden? The official word on this is no. Counselors may feel that the action allows them to better serve the client, but it is an invasion of privacy.
Going Beyond the Code
While the ACA Code does not reference particular technologies by name, ACA officials reference them in their clarifying statements. ACA ethics specialist Michelle Wade recently advised a reporter from Counseling Today that Twitter is more anonymous and may be easier and safer for those new to technology (http://ct.counseling.org/2014/05/a-living-document-of-ethical-guidance/). It's easier to maintain a personal account that is not linked to one's own name or identity. A counselor can also maintain an account for his or her practice. It may not be an ethical violation to follow a client on Twitter if the clients asks to be followed, but it is not a decision to be made lightly. If the counselor does agree to follow, it can be a good idea to review the content during a counseling session.
Mastering the New Ethics
The ACA has published a series of interviews with task force members that serve to clarify the new standards. The July 2014 edition focused specifically on technology (http://www.counseling.org/docs/default-source/ethics/ethics_sept_2014.pdf?sfvrsn=2). The upcoming 2015 national conference features a number of sessions on ethics with social media given some coverage.
State chapters are also hosting events. Hawaii's 2014 state conference focused specifically on technology and social media in counseling. Among the offerings: "BlogShop for Counselors" and "Disconnected: Minding Relationships in a Digital Age" (http://www.counseling.org/conference/past-conferences/hawaii-aca-2014/conf-programs/education-sessions/technology-and-social-media-in-counseling).
While it might be nice to travel to Hawaii to brush up on one's professional development, counselors can become familiar with the new ethics code the same place that they carry out so much of their other business: online. The ACA has provided podcasts and webinars as well as other learning resources (http://www.counseling.org/knowledge-center/ethics/code-of-ethics-resources). Counselors can also seek out distance courses on social media through other organizations that have been approved by their state boards or by the National Board for Certified Counselors.
Find Mental Health Counselor Licensure Requirements in Your State: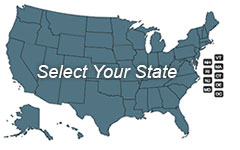 Learn about becoming a Mental Health Counselor in your state:
To View Full U.S. Map Click Here.