Mental Health Counseling Master's Programs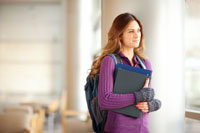 A clinical mental health counseling license is flexible, allowing you to help individuals and families in a variety of settings, from governmental agencies and medical centers to your own private practice. Mental health counseling master's degree programs have grown flexible, too.
Mental health counselors are expected to complete core counseling coursework in areas such as counseling theories, counseling skills, and professional ethics; they must also develop specialized skills in areas like DSM-based diagnosis. They aren't, however, expected to master the content in exactly the same way.
<!- mfunc feat_school ->
Sponsored School(s)
Featured Programs:
Pepperdine University Graduate School of Education and Psychology's Master of Arts in Clinical Psychology Licensed Professional Counselor track prepares a student to become a licensed professional counselor (LPC) in various states. Graduates will first pursue licensure as an associate professional clinical counselors (APCC). Click here to learn more about the Master of Arts in Clinical Psychology program at Pepperdine University.

---

Grand Canyon University

offers an M.S. in Clinical Mental Health Counseling with an Emphasis in Childhood and Adolescence Disorders; Christian Counseling; Marriage & Family Therapy and Trauma.

---

Arcadia University

offers an Online Graduate Certificate in Infant Toddler Mental Health.

Click here

to contact Arcadia University and request information about their programs.

---

Butler University

Positively Impact Lives with a Master's Degree in Counseling - Online Master of Science in Mental Health Counseling

---

Eastern Oregon University's

online MS in Clinical Mental Health Counseling program will help you learn to utilize complex critical thinking skills in the pursuit of fulfilling work in the industry of your choice.

---

Rivier University's

online Master of Arts in Clinical Mental Health Counseling degree program offers the framework and professional training needed to start a rewarding career as a licensed clinical mental health counselor.

---
<!- /mfunc feat_school ->
Online vs. In-Seat
If you choose to pursue a graduate degree in mental health counseling, you will have the choice of completing it in-seat or online. Programs are held to similar standards. The choice largely comes down to your learning style and the other obligations you have.
Make sure the program you select meets or exceeds the licensure requirements in your states.
Even online programs vary. You can opt for a cohort-based program, where you will take your courses lock-step with a group of peers. Though you may not have quite the level of accountability or social interaction that you would if you were on campus, you have the chance to build strong professional relationships over the course of two to three years. If you prefer flexibility, you can opt for a different model, taking one to three courses per quarter. A light schedule may mean you spend four years earning your degree.
Many on-campus programs are also designed for individuals who are juggling work and family responsibilities. They may offer courses two days per week or in the evenings.
No matter if you choose a campus based program or online program, selecting a CACREP accredited mental health counseling master's degree program will help assure that you are meeting the majority of the requirements for licensure in most every state.
Residencies and Field Experiences
While you may choose to do most of your coursework via computer, you typically have a residency at least once a year. Residencies give you an opportunity to interact in a way that is difficult to do online, even in a world of multimedia and synchronized, real-time video communication. You may meet with peers at a central location, either on campus or at a conference center.
One thing that you can't do online is your fieldwork. Over the course of the program, you will have multiple courses that place you out in the field. Most programs call the introductory experience(s) 'practicum' and subsequent ones(s) 'internship'. Both allow you to practice your counseling skills under supervision and to process your experiences with peers. The internship allows you to take on a role closer to that of a licensed counselor.
Expect at least 100 hours of practicum and 600 hours of internship. At least 240 internship hours will consist of direct client service. Some programs set requirements much higher.
You may have a good deal of flexibility with regard to where you do your internship. You may also have to do some legwork. Some programs require you to apply for field experiences.
Program Accreditation
There are many programs that meet accepted standards, but there may be some out there that don't. You will want to familiarize yourself with your state licensing agency early on, and consider both institutional and programmatic accreditation. Your program must be housed in an accredited institution. You will have more options if the program itself is accredited by the Council for Accreditation of Counseling and Related Educational Programs (CACREP). While CACREP accreditation is no guarantee that you will meet licensing standards in all jurisdictions, you can expect an accredited program to meet or exceed the requirements of most states.
Other Considerations
When you peruse course titles, you may get the sense that the curriculum itself is very similar. There is a good deal of similarity – not only the content but the course titles may reflect CACREP standards. However, there are curriculum innovations. While many programs assign you a set of courses to take each term, some offer more electives. Some CACREP-accredited programs are faith based, and some offer dual credentialing options or specialized tracks.
Find Mental Health Counselor Licensure Requirements in Your State: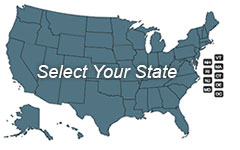 Learn about becoming a Mental Health Counselor in your state:
To View Full U.S. Map Click Here.