Mental Health Counseling Licensure
All states license mental health counselors, but they don't all do it in quite the same way. In some, the license is specific to the mental health counseling discipline. In others, the same license can be achieved by rehabilitation counselors and even vocational counselors: individuals who have an overlapping scope of practice but a different focus.
<!- mfunc feat_school ->
Sponsored School(s)
Featured Programs:

Capella University Offers four CACREP- accredited master's programs online: MS in Clinical Mental Health Counseling, MS in School Counseling – Addiction Treatment and Recovery, MS in School Counseling – General School Counseling, MS in School Counseling – Child and Adolescent Counseling. Capella also offers a COAMFTE-accredited MS in Marriage and Family Therapy. Click here to contact Capella University and request information about their programs.

---

Pepperdine University Graduate School of Education and Psychology's Master of Arts in Clinical Psychology Licensed Professional Counselor track prepares a student to become a licensed professional counselor (LPC) in various states. Graduates will first pursue licensure as an associate professional clinical counselors (APCC). Click here to learn more about the Master of Arts in Clinical Psychology program at Pepperdine University.

---

Arcadia University

offers an Online Graduate Certificate in Infant Toddler Mental Health.

Click here

to contact Arcadia University and request information about their programs.

---

Butler University

Positively Impact Lives with a Master's Degree in Counseling - Online Master of Science in Mental Health Counseling

---

Eastern Oregon University's

online MS in Clinical Mental Health Counseling program will help you learn to utilize complex critical thinking skills in the pursuit of fulfilling work in the industry of your choice.

---

Rivier University's

online Master of Arts in Clinical Mental Health Counseling degree program offers the framework and professional training needed to start a rewarding career as a licensed clinical mental health counselor.

---
<!- /mfunc feat_school ->
All states license mental health counselors, but they don't all do it in quite the same way.
Some states have multiple levels of licensure; the higher is more likely to include the word "clinical". Sometimes having two licensing levels simply means that individuals come under board jurisdiction at an early stage, before they have practiced under supervision and met standards for independent practice; all counselors begin at one level, but hold the lower license for a limited time period. In other states, the higher license signifies training that is more specifically focused on mental health. The two licenses may, for example, have different internship requirements.
Titles, too, vary from state to state. There are Licensed Professional Counselors, Licensed Clinical Professional Counselors, Licensed Professional Clinical Counselors, and Licensed Mental Health Counselors. The title can be a clue about differences in scope of practice — but isn't always.
While the details may vary, the licenses have something in common: They signify that a professional has been judged competent and merits the public trust. There are generally four components: education, examination, supervised practice, and background screening.
Education
All states require education at the master's level or higher.
All states require education at the master's level or higher. Many model their standards after those of the Council for Accreditation of Counseling and Related Educational Programs (CACREP). CACREP-accredited mental health counseling programs include 60 semester hours of graduate coursework while programs in some other disciplines, for example, school or career counseling, require only 48. Clinical mental health counseling programs develop both core counseling competencies and mental health counseling competencies. Some states require the longer program and the additional coursework in diagnosing and treating psychopathology and mental disorders; others don't. They may, however, stipulate that a counselor practice within his or her scope of training.
Examination
State boards may require a generalist examination, the National Counselor Examination (NCE) or a mental health counseling specialty examination, the National Clinical Mental Health Counseling Examination (NCMHCE). Some require both.
In addition to the national examination, many states require a jurisprudence examination. This is a test of state laws, rules, and ethical standards. In some cases, the jurisprudence examination is a formal evaluation. In others, it is open book and may be submitted online.
Supervised Practice
Licensure at the highest level depends on successfully completing a period of supervised practice. In some states, individuals hold licensing while completing supervised practice requirements. Many states require them to at least register their supervision; this ensures that the experience will meet standards.
States conceptualize the supervisory process a little differently and set different requirements for supervisory sessions. They also require varying amounts of paperwork. In some, the supervisor evaluates the candidate's progress at six month intervals; some Boards require very detailed information.
Two years of supervised experience (or the equivalent) is a typical requirement; just going by years or hours can be misleading as many states expect pre-degree internship but don't credit it as work experience. Others will credit university coordinated work experiences that take place before the master's degree is conferred. Some states, too, are more lenient in crediting time spent in nonclinical activity.
Background Screening
Ultimately, licensing agencies want to know more than just what the supervisor has to say. They typically require a fingerprint-based background check at some point along the way.
The background check is something you generally have to repeat when you move from state to state. Fortunately, you generally don't have to repeat many of the other steps. (But if the new state has significantly different requirements, you could find yourself with some additional work to do.)
Find Mental Health Counselor Licensure Requirements in Your State: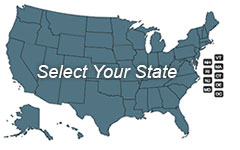 Learn about becoming a Mental Health Counselor in your state:
To View Full U.S. Map Click Here.