Mental Health Counselor License Requirements in Wisconsin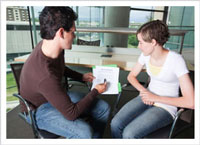 Wisconsin mental health counselors are licensed as Licensed Professional Counselors. After completing graduate degrees, counselors must work under supervision in positions that involve clinical professional counseling or the equivalent. Individuals come under Board jurisdiction at the post-degree supervision level. Those who are working under training licenses or temporary licenses are allowed to use the term "Professional Counselor".
<!- mfunc feat_school ->
Sponsored School(s)
Featured Programs:

Capella University Offers four CACREP- accredited master's programs online: MS in Clinical Mental Health Counseling, MS in School Counseling – Addiction Treatment and Recovery, MS in School Counseling – General School Counseling, MS in School Counseling – Child and Adolescent Counseling. Capella also offers a COAMFTE-accredited MS in Marriage and Family Therapy. Click here to contact Capella University and request information about their programs.

---

Pepperdine University Graduate School of Education and Psychology's Master of Arts in Clinical Psychology Licensed Professional Counselor track prepares a student to become a licensed professional counselor (LPC) in various states. Graduates will first pursue licensure as an associate professional clinical counselors (APCC). Click here to learn more about the Master of Arts in Clinical Psychology program at Pepperdine University.

---

Grand Canyon University

offers an M.S. in Clinical Mental Health Counseling with an Emphasis in Childhood and Adolescence Disorders; Christian Counseling; Marriage & Family Therapy and Trauma.

---

Arcadia University

offers an Online Graduate Certificate in Infant Toddler Mental Health.

Click here

to contact Arcadia University and request information about their programs.

---

Butler University

Positively Impact Lives with a Master's Degree in Counseling - Online Master of Science in Mental Health Counseling

---

Eastern Oregon University's

online MS in Clinical Mental Health Counseling program will help you learn to utilize complex critical thinking skills in the pursuit of fulfilling work in the industry of your choice.

---

Rivier University's

online Master of Arts in Clinical Mental Health Counseling degree program offers the framework and professional training needed to start a rewarding career as a licensed clinical mental health counselor.

---
<!- /mfunc feat_school ->
Select a Wisconsin Mental Health Counselor Licensure Topic:
Educational Requirements
A graduate can qualify with either a master's or doctoral degree. According to Chapter MPSW 11 of Wisconsin statute, degrees can be accepted on the basis of CACREP, CORE, or regional accreditation. CORE is a program-level accrediting agency for rehabilitation counseling programs while CACREP is a program-level accrediting agency for several counseling disciplines, including mental health. Regional accreditation is institutional.
The Board has compiled a list of pre-approved programs, noting that other programs may be considered pre-approved on the basis of program-level accreditation (https://dsps.wi.gov/Pages/Professions/LPC/Default.aspx).
Graduates whose programs were not specifically in professional counseling may qualify on the basis of equivalency. A master's level candidate applying by equivalency will need, at minimum, 42 semester hours. In order to be accepted as 'doctoral equivalent', a PhD must have at least 48 semester hours of coursework that is related to counseling. (Candidates with doctoral degrees will have a shorter post-degree supervised practice requirement, but will ultimately qualify for the same counseling license.)
All students must have a course in counseling theory as well as a supervised practicum. Those applying by 'master's equivalency' must have coursework in at least six of the following areas; those applying by 'doctoral equivalency' must have coursework in all eight:
• The helping relationship
• Human growth and development
• Social and cultural foundations
• Lifestyle and career development
• Group dynamics, process, counseling
• Appraisal of individuals
• Professional counseling orientation
• Research and evaluation
Each required course is to be represented by at least three semester hours.
International programs can be accepted if the National Board for Certified Counselors or other acceptable agency determines that they are CACREP-equivalent.
Supervised Practice
The amount of supervised practice will depend on the highest degree attained. Individuals with education at the master's level will need 3,000 supervised experience hours with at least 1,000 spent in face-to-face client contact. Those with education at the doctoral level will need 1,000 experience hours; hours may be credited for work done while enrolled in a doctoral program.
The trainee will need to average at least an hour of supervision per week. The supervisor must meet Board requirements. An LPC can qualify by accruing five years of professional experience or by earning a doctoral degree in professional counseling. Psychologists and psychiatrists are also eligible. The Board may approve other professionals.
While meeting postgraduate requirements, a counselor holds a training license. The training license is issued for four years but may be renewed at Board discretion.
The Examination Process
Wisconsin requires a national board examination and a test of statutes and rules. Candidates may take the required examinations at the training level.
Licensing Examination: The Wisconsin Board will accept any of three examinations for licensing purposes (https://dsps.wi.gov/Pages/Professions/LPC/Default.aspx). The Clinical Rehabilitation Counselor Examination (CRCE), is typically taken by rehabilitation counselors. Graduates with a mental health specialization may opt for the National Counselor Examination (NCE) or the National Clinical Mental Health Counseling Examination (NCMHCE).
The National Board for Certified Counselors (NBCC) handles registration for both the NCE and NCMHCE. The NCE/NCMHCE registration form can be downloaded from the website or from the 'Wisconsin' page of the NBCC state directory (http://www.nbcc.org/directory/WI). The candidate must submit the signed registration form to the NBCC accompanied by an official graduate transcript and the requisite fee currently $195. (A separate $15 examination contract fee is submitted to the Wisconsin Board with application materials.)
An examination schedule is included in the NBCC registration materials. Computer-delivered examinations are generally available at AMP testing sites during a two-week window each month. Candidates must wait for confirmation from the NBCC before contacting AMP about scheduling an examination.
The examination is administered at two Wisconsin sites: in Green Bay and in the greater Milwaukee area. Approved Milwaukee candidates can opt to schedule in other states. All sites have weekday hours; a subset also offer the examination on Saturdays. AMP can be reached at 888-519-9901.
A candidate who wishes to retest after a failed attempt must wait a minimum of three months.
A candidate who has met all requirements but national examination may be issued a temporary license. This is valid until test results are received – or until nine months have elapsed. A candidate who fails an attempt must relinquish the temporary license.
State Jurisprudence Examination; Candidates must also take the Wisconsin Statutes and Rules examination. This is available online; test takers will need to use Internet Explorer. The test is untimed. The fee is $75.
The Application Process
In-state candidates will apply at the training level. Individuals may simultaneously submit materials for training licensure and Professional Counselor licensure. Application materials for candidates at all levels are available on the Department of Safety and Professional Services website (https://dsps.wi.gov/Pages/Professions/LPC/Default.aspx).
The applicant will have a school official certify education. Additional documentation will be required if it is not clear that the education meets Board standards.
Applicants at the trainee level will need their employers to submit documentation that they indeed hold a position that meets training requirements.
There is a $75 initial credentialing fee at either level. The applicant will need to sign a certification of legal status and have it notarized.
Materials may be sent by standard or express delivery to the Professional Counselor Section in Madison; two addresses are noted in the application instructions.
Applicants are informed by email of updates to their application files (http://dsps.wi.gov/Default.aspx?Page=1521432d-dddd-4dd9-9cff-c7f79d47c58b).
Malpractice, discipline, or criminal history will add to the processing time. In some cases, an applicant may be asked to appear before the Board for an oral examination.
Out-of-State Counselors
Counselors who are licensed in other U.S. states or territories may be candidates for licensure by reciprocity. Reciprocal candidates do not need to submit the form verifying supervised experience but do need a copy of their state's credentialing requirements (statutes and rules).
Reciprocity candidates pay a total of $166 with their applications: $91 for initial credentialing, $75 for the state jurisprudence examination.
All out-of-state candidates will need to submit credential verification, whether their credentials are active or inactive.
Adjunct Mental Health Counseling Certification
Some Wisconsin counselors pursue adjunct mental health counseling certification through the National Board for Certified Counselors. The CCMHC credential does not take the place of licensing, but does show that the counselor has met a high national standard (http://www.nbcc.org/Certification).
Additional Information
Licensing information for the Professional Counselor section can be found on the site of the Department of Safety and Professional Services (http://dsps.wi.gov/Default.aspx?Page=327ccb79-1373-4ce9-8a68-bfdd52ea3566).
The Wisconsin Mental Health Counselors Association is an additional professional resource (https://wisconsincounselingassociation.com/).
Find Mental Health Counselor Licensure Requirements in Your State: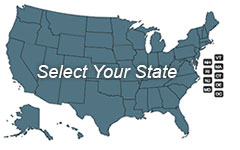 Learn about becoming a Mental Health Counselor in your state:
To View Full U.S. Map Click Here.