Mental Health Counselor License Requirements in West Virginia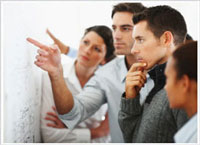 West Virginia mental health counselors are credentialed as Licensed Professional Counselors (LPCs). The license is granted on the basis of graduate education, national examination, and supervised practice. An individual will first work as a Provisionally Licensed Counselor. The provisional counselor will be evaluated on clinical skills such as diagnosis, assessment, and treatment of emotional disorders.
The credential may be earned by individuals with training in different counseling disciplines, including school counseling and rehabilitation counseling. However, the minimum education – 60 semester hours — is at the standard set by national mental health counseling accrediting and certifying agencies.
<!- mfunc feat_school ->
Sponsored School(s)
Featured Programs:

Capella University Offers four CACREP- accredited master's programs online: MS in Clinical Mental Health Counseling, MS in School Counseling – Addiction Treatment and Recovery, MS in School Counseling – General School Counseling, MS in School Counseling – Child and Adolescent Counseling. Capella also offers a COAMFTE-accredited MS in Marriage and Family Therapy. Click here to contact Capella University and request information about their programs.

---

Pepperdine University Graduate School of Education and Psychology's Master of Arts in Clinical Psychology Licensed Professional Counselor track prepares a student to become a licensed professional counselor (LPC) in various states. Graduates will first pursue licensure as an associate professional clinical counselors (APCC). Click here to learn more about the Master of Arts in Clinical Psychology program at Pepperdine University.

---

Grand Canyon University

offers an M.S. in Clinical Mental Health Counseling with an Emphasis in Childhood and Adolescence Disorders; Christian Counseling; Marriage & Family Therapy and Trauma.

---

Arcadia University

offers an Online Graduate Certificate in Infant Toddler Mental Health.

Click here

to contact Arcadia University and request information about their programs.

---

Butler University

Positively Impact Lives with a Master's Degree in Counseling - Online Master of Science in Mental Health Counseling

---

Eastern Oregon University's

online MS in Clinical Mental Health Counseling program will help you learn to utilize complex critical thinking skills in the pursuit of fulfilling work in the industry of your choice.

---

Rivier University's

online Master of Arts in Clinical Mental Health Counseling degree program offers the framework and professional training needed to start a rewarding career as a licensed clinical mental health counselor.

---
<!- /mfunc feat_school ->
Select a West Virginia Mental Health Counselor (LPC) Licensure Topic:
Educational Requirements
The prospective counselor must earn a master's or doctoral degree (http://www.wvbec.org/images/27-01_07-01-07.pdf). West Virginia will accept any of several recognized institutional or program-level accreditations. Of the program-level accreditations, the Council for Accreditation of Counseling and Related Educational Programs (CACREP) is the one that typically accredits mental health counseling.
Students can search for accredited programs on the CACREP site (http://www.cacrep.org/directory/).
Institutional accreditation by the North Central Association of Colleges and Schools (NCACS) or a comparable agency is also acceptable.
The student will need at least three semester hours in each of the following:
Human growth and development
Counseling techniques
Counseling theory
Individual appraisal
Social and cultural foundations
Professional responsibilities
Mental and emotional disorders/ dysfunctional behavior
Group dynamics and processes/ group counseling and consulting
Lifestyle and career development
Addiction counseling
Marriage, couple, or family therapy
Research and evaluation
Practicum
Internship
The student will need at least 60 total semester hours. Additional courses needed to meet the 60 semester hour requirement may be taken in the required content areas or in any of the following:
Biological bases of behavior
Psychopharmacology
Crisis intervention
Human sexuality
Counseling interventions
Rehabilitation counseling
Counseling special populations
Supervised Practice
The graduate will work under supervision while holding provisional licensure. The length of post-degree practice depends on the degree earned (http://www.wvbec.org/images/27-01_07-01-07.pdf). An individual with a master's will need to work for at least two years to accrue 3,000 post-degree hours. An individual with a doctoral degree will need to accrue just 1,500. The Board will credit no more than 1,500 in a given year; partial credit will be granted if the trainee works fewer than 1,500 hours. Half the required hours must be spent in direct service provision.
The trainee will work under a clinical supervisor who has been pre-approved by the Board. The supervisee will need, at minimum, an hour of clinical supervision for every 20 practice hours.
Provisional licenses are issued for 36 months and may, if necessary, be renewed for an additional 24 months.
The supervisor will provide verification and assessment at the mid-point of the supervised experience and again at the end. The provisional licensee will remain under supervision until the LPC license has been issued.
The Examination Process
West Virginia counselors must take a licensing examination. In most cases, this is the National Counselor Examination (though the Board will also accept a rehabilitation counselor certification examination).
Students sometimes have the opportunity to take the NCE as early as graduate school.
Applicants who have not yet taken the required examination will need to have their credentials evaluated by the West Virginia Board; this is done at the time of application for provisional licensure (http://www.wvbec.org/becominganlpc/nationalcounselorexam.html).
An approved candidate will register with the National Board for Certified Counselors (NBCC). The NBCC will require the following:
Registration form signed in ink
Approval letter from WVBEC
$195 fee
The candidate may wait several weeks for confirmation and authorization to schedule. Examinations are administered via computer at AMP assessment centers. There is one approved site in West Virginia: in the greater Charleston area (http://www.nbcc.org/directory/WV). West Virginia candidates are also allowed to test at AMP centers in other states. The West Virginia Board notes that candidates can search by zip code on the AMP website (www.goAMP.com). Examinations are available two weeks out of the month, but candidates are advised that slots may fill.
WVBEC will automatically receive test results for approved candidates; candidates are, however, advised to allow four to six weeks after testing.
A candidate who fails an examination attempt will need to wait three months. After three unsuccessful attempts, the Board will require additional education and training. Requirements will be determined on a case-by-case basis.
A candidate who has already taken the NCE should request that scores be sent to the licensing agency from the NBCC. Examination scores are considered valid for five years.
The Application Process
An in-state candidate first applies at the provisional level.
An applicant should make a written request for a licensure packet from the West Virginia Board. Instructions and forms will be sent in CD format, generally within seven days (http://www.wvbec.org/becominganlpc.html). Some forms are also available on the Board website (http://www.wvbec.org/popularforms/provisionallicenseeslpc.html).
A supervision contract will be required. The Board will need to verify the supervisor's credentials.
Transcripts are to be received directly from the issuing institution.
The applicant will need both professional recommendations and personal reference letters. The two professional recommendations are to be written on Board-supplied forms.
Personal references must come from individuals other than the recommenders; there is no form supplied for the letters.
A fee of $200 will be sent with the completed application.
Out-of-State Counselors
A counselor licensed on the basis of similar or higher requirements may be granted reciprocity; in this instance, the NCE requirement can be waived. The counselor will need to have a certified copy of his or her application file sent to the West Virginia Board. Official transcripts will also be required. The Board will need two professional recommendations.
Applicants who are fully licensed in other states will need to make sure to request the reciprocity packet. They should identify the current state of licensure when making the request.
Additional Information
The West Virginia Board of Examiners in Counseling is found on the web at www.wvbec.org. The license coordinator can be reached at rclay27 at msn.com.
Find Mental Health Counselor Licensure Requirements in Your State: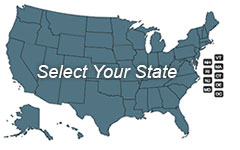 Learn about becoming a Mental Health Counselor in your state:
To View Full U.S. Map Click Here.