Mental Health Counselor License Requirements in Washington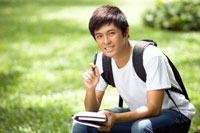 Washington State's Licensed Mental Health Counselors are credentialed by the Department of Health, or 'DOH'. Licensure is based on graduate education, examination, and supervised practice. While working toward full licensure, graduates are credentialed as Licensed Mental Health Counselor Associates.
<!- mfunc feat_school ->
Sponsored School(s)
Featured Programs:

Capella University Offers four CACREP- accredited master's programs online: MS in Clinical Mental Health Counseling, MS in School Counseling – Addiction Treatment and Recovery, MS in School Counseling – General School Counseling, MS in School Counseling – Child and Adolescent Counseling. Capella also offers a COAMFTE-accredited MS in Marriage and Family Therapy. Click here to contact Capella University and request information about their programs.

---

Pepperdine University Graduate School of Education and Psychology's Master of Arts in Clinical Psychology Licensed Professional Counselor track prepares a student to become a licensed professional counselor (LPC) in various states. Graduates will first pursue licensure as an associate professional clinical counselors (APCC). Click here to learn more about the Master of Arts in Clinical Psychology program at Pepperdine University.

---

Grand Canyon University

offers an M.S. in Clinical Mental Health Counseling with an Emphasis in Childhood and Adolescence Disorders; Christian Counseling; Marriage & Family Therapy and Trauma.

---

Arcadia University

offers an Online Graduate Certificate in Infant Toddler Mental Health.

Click here

to contact Arcadia University and request information about their programs.

---

Butler University

Positively Impact Lives with a Master's Degree in Counseling - Online Master of Science in Mental Health Counseling

---

Eastern Oregon University's

online MS in Clinical Mental Health Counseling program will help you learn to utilize complex critical thinking skills in the pursuit of fulfilling work in the industry of your choice.

---

Rivier University's

online Master of Arts in Clinical Mental Health Counseling degree program offers the framework and professional training needed to start a rewarding career as a licensed clinical mental health counselor.

---
<!- /mfunc feat_school ->
Select a Washington Licensed Mental Health Counselor Licensure Topic:
Educational Requirements
A Washington mental health counselor must earn a master's or doctoral degree in mental health counseling or a related field (http://www.doh.wa.gov/MentalHealthCounselor/LicenseRequirements). Programs in counseling, education, nursing, pastoral counseling, psychology, rehabilitation counseling, social services, and social work are all potentially qualifying. However, the program must meet Board standards. It must include counseling studies and counseling philosophy. It must include practicum and/or internship in counseling.
The student must have coursework in at least seven of the areas listed below, with at least five courses drawn from the first eight content areas listed.
Research and evaluation
Psychopathology/ abnormal psychology
Developmental psychology
Couple and family counseling
Group counseling
Individual counseling
Ethics/law
Assessment/ diagnosis
Chronically mental ill
Abusive relationships
Developmentally disabled
Mental health consultation
Organizational psychology
Physiological psychology
Substance abuse
Multicultural concerns
Career development counseling
While Washington does not mandate that students complete programs accredited by the Council for Accreditation of Counseling and Related Educational Programs, completion of a CACREP-accredited program can mean a shorter period of postgraduate supervised practice.
A candidate for licensure will also need to do four hours of AIDS training.
Examination Requirements
Washington will accept either of two licensing examinations, both of which are administered by the National Board for Certified Counselors. The National Counselor Examination (NCE) is often the first examination that an individual has the opportunity to take; counseling students are sometimes registered during their final term. The National Clinical Mental Health Counseling Examination (NCMHCE) is a specialty mental health counseling examination.
The registration form can be downloaded from the 'Washington' page of the NBCC website (http://www.nbcc.org/directory/WA). The candidate will note the exam preference (NCE or NCMHCE), sign the form in ink, and send it to the NBCC, accompanied by a $195 fee and a transcript showing degree conferral.
Candidate bulletins can also be downloaded from the NBCC website.
The candidate may wait approximately four weeks for postcard and email confirmation from the NBCC. At this point, he or she can schedule a computer-delivered examination through Applied Measurement Professionals.
There are ten authorized testing sites in Washington:
Bellevue
East Wenatchee
Everett
Kennewick
Seattle
Spanaway
Spokane
Tacoma
Vancouver
Yakima
Candidates are also allowed to schedule at authorized AMP sites located in other states. Examinations are available nationwide on weekdays, two weeks out the month; some sites also offer them on Saturdays during scheduled testing window.
A candidate who registers using the Washington registration form can expect the DOH to receive scores, though official results may not be available until four to five weeks after testing.
A candidate who passes the examination, but does not do so as a Washington candidate, will need to arrange to have official score verification sent to the licensing agency.
The Associate Mental Health Counselor Application Process
Professionals must have appropriate credentialing in order to be eligible to work as counselors.
Candidates may apply for their Mental Health Counselor Associate license after meeting educational requirements.
There is currently a $50 fee for application at the associate level (http://www.doh.wa.gov/MentalHealthCounselor/Fees).
Associate licenses must be renewed on an annual basis. They are renewable a maximum of six times Renewals are dependent on meeting a continuing education requirement.
Supervised Practice Requirements
Washington law calls for 36 months, or 3,000 hours, of postgraduate supervised mental health counseling experience (https://app.leg.wa.gov/wac/default.aspx?cite=246-809-230). The experience must include at least 1,200 hours of direct counseling.
The supervisee will need 100 hours of immediate supervision. Supervision must be provided by a Licensed Mental Health Counselor or by another licensed mental health provider who is equally qualified (https://app.leg.wa.gov/wac/default.aspx?cite=246-809-230). To be approved as a supervisor, a professional must meet requirements found in Washington Administrative Code 246-809-234 (http://app.leg.wa.gov/wac/default.aspx?cite=246-809-234).
Students who graduate from CACREP-accredited programs can receive credit for 500 hours of postgraduate experience and 50 hours of postgraduate supervision.
The Washington Mental Health Counselors Association has provided contact information for potential supervisors (https://wmhca.org/clinical-supervision/clinical-supervisors/).
The Application Process
Application forms are available on the DOH website (http://www.doh.wa.gov/MentalHealthCounselor/ApplicationsandForms).
In-state candidates typically document education at the associate stage. Transcripts are to be sent directly to the licensing agency from the graduate school(s). Candidates applying on the basis of related degrees will need to provide syllabi if course content is not clear from the transcript/ course titles.
At the close of the supervisory period, the supervisor will fill out a verification form and submit it to the Department of Health.
LMHCs pay $156 for application and $125 for licensure (http://www.doh.wa.gov/MentalHealthCounselor/Fees).
Some applicants (typically out-of-state applicants and applicants with criminal histories) will be contacted and asked to complete fingerprint-based criminal background checks. (The DOH utilizes the Washington State Patrol database to conduct background checks of applicants. However, this is of limited value in evaluating out-of-state applicants.) The DOH will provide fingerprint cards to those required to go through the process. The applicant will be responsible for fees. Currently, the cost of the federal background check is $32.50 (http://www.doh.wa.gov/ProfessionsNewReneworUpdate/FingerprintBackgroundCheck).
The DOH uses email to notify applicants of missing information (http://www.doh.wa.gov/LicensesPermitsandCertificates/ProfessionsNewReneworUpdate/ApplicationStatus); if no email has been provided, a letter will be sent. Status can be monitored online. The verification system typically shows an active license more than a week before the actual document arrives in the mail.
Out-of-State Counselors
Out-of-state counselors must request verification from each state where they have been licensed, certified, or registered. (Washington also requires applicants to list all states where they have applied, regardless of whether they have received a license.)
In some cases, out-of-state license verification will include confirmation of having passed the required NBCC examination.
Additional Information
The Washington Department of Health is the source for current information about the mental health licensing process (http://www.doh.wa.gov/MentalHealthCounselor/LicenseRequirements#MHCA). The licensing agency may be reached by telephone at 360-236-4700. Interested individuals may opt to join the ListServ.
The Washington Mental Health Counselors Association is not involved with the licensing process but is an additional source of information (https://wmhca.org).
Find Mental Health Counselor Licensure Requirements in Your State: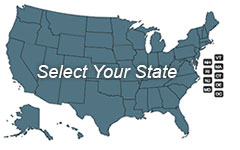 Learn about becoming a Mental Health Counselor in your state:
To View Full U.S. Map Click Here.