Mental Health Counselor License Requirements in Vermont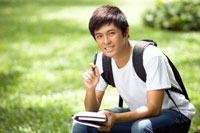 Vermont's Licensed Clinical Mental Health Counselors (LCMHCs) are under the jurisdiction of the Board of Allied Mental Health.
LCMHCs must complete qualifying graduate programs, work under supervision for two years, and pass a series of examinations. While fulfilling postgraduate practice, they are registered with the state as unlicensed psychotherapists.
<!- mfunc feat_school ->
Sponsored School(s)
Featured Programs:
Pepperdine University Graduate School of Education and Psychology's Master of Arts in Clinical Psychology Licensed Professional Counselor track prepares a student to become a licensed professional counselor (LPC) in various states. Graduates will first pursue licensure as an associate professional clinical counselors (APCC). Click here to learn more about the Master of Arts in Clinical Psychology program at Pepperdine University.

---

Grand Canyon University

offers an M.S. in Clinical Mental Health Counseling with an Emphasis in Childhood and Adolescence Disorders; Christian Counseling; Marriage & Family Therapy and Trauma.

---

Arcadia University

offers an Online Graduate Certificate in Infant Toddler Mental Health.

Click here

to contact Arcadia University and request information about their programs.

---

Butler University

Positively Impact Lives with a Master's Degree in Counseling - Online Master of Science in Mental Health Counseling

---

Eastern Oregon University's

online MS in Clinical Mental Health Counseling program will help you learn to utilize complex critical thinking skills in the pursuit of fulfilling work in the industry of your choice.

---

Rivier University's

online Master of Arts in Clinical Mental Health Counseling degree program offers the framework and professional training needed to start a rewarding career as a licensed clinical mental health counselor.

---
<!- /mfunc feat_school ->
Select a Vermont Mental Health Counselor Licensure Topic:
Education Requirements
The prospective mental health counselor must complete a degree at the master's level or higher. The degree must meet the Board's definition of "counseling or counseling related" (https://sos.vermont.gov/allied-mental-health/statutes-rules-resources/). This means that, in order for a counselor to qualify for license by examination, certain coursework must be included in the original degree. Other courses may be taken post-degree, if necessary.
Qualifying Degree: A qualifying degree includes a course in "diagnosis, assessment, and treatment". It includes at least 600 hours of internship. Moreover, it includes at least three credit hours in no fewer than five of the seven core areas listed below:
Human growth and development
Counseling theory
Counseling skills
Treatment modalities
Groups
Professional orientation and ethics
Measurement
Additional Coursework Requirements: Before a license can be conferred, the counselor must complete coursework in all core areas listed above. The individual must complete additional internship, if necessary, to total 1,000 hours. (Practicum may be credited as the first 100 hours.)
Additionally, the student must have coursework in the following areas, which may or may not have been included in the original degree program:
Multicultural studies
Career development/ lifestyle appraisal
Research and evaluation
At least two of the following courses will be required:
Addiction disorders
Crisis intervention
Marriage and family counseling
Human sexuality for counselors
Psychopharmacology
Total program length must be 60 semester hours. However, candidates can be licensed on the basis of shorter degree programs, provided that they make up the additional courses post-master.
Courses may go by different titles; a description of course content can be found in the application packet.
Examination Requirements
Ultimately, a Vermont counselor will need to pass two examinations: the National Counselor Examination, or NCE, and the National Clinical Mental Health Counseling Examination, or NCMHCE. Both examinations are offered by the National Board for Certified Counselors. Candidates become eligible after they have met educational requirements.
Some candidates take the NCE during their final term in a qualifying graduate program. Those that do so must provide official score verification from the NBCC.
In other instances, the Vermont Board will evaluate education and provide examination registration. A candidate who has been board authorized will send registration to the NBCC along with a $195 testing fee. The candidate will wait for postcard/ email confirmation from the NBCC before scheduling an examination. Examinations are scheduled through Applied Measurement Professionals (AMP). An approved candidate may call 888-519-9901 or visit www.goAMP.com.
Examinations are available in-state in Burlington. Vermont candidates are also welcome to schedule at approved testing sites located in other states. Examinations are available on weekdays during the first two full weeks of each month (excluding major holidays). Some sites have Saturday scheduling.
Examination information is available on the Vermont page of the NBCC website (http://www.nbcc.org/directory/VT).
Supervised Practice Requirements
Graduates will need to work under supervision for a period of at least two years. They must accrue at least 3,000 experience hours, with at least 2,000 consisting of direct service.
The supervisor may be licensed as a clinical mental health counselor or as a clinical social worker, psychiatric nurse practitioner, marriage and family therapist, or psychologist. Supervision by a medical doctor is permissible if the doctor is certified in psychiatry. Whatever his or her discipline, the supervisor must have held a license in good standing for at least three years.
The unlicensed psychotherapist will need at least 100 hours of face-to-face supervision (a rate of one hour per thirty experience hours). At least 50 of the supervision hours must be individual. Group supervision sessions may include up to six supervisees.
The candidate may begin after all degree requirements have been met, even if the formal graduation date is still in the future – provided that he or she is registered with the Board.
The Application Process
Registration: An in-state candidate will file an application for registration as an unlicensed, uncertified psychotherapist before commencing supervision. The individual will prepare a public disclosure statement, answer professional fitness questions, and demonstrate "good standing" or compliance on state taxes and on child support, court fines, or restitution (if applicable). A $75 fee is due at this stage.
License Application: In-state candidates also submit license applications before meeting all requirements; the Board notes that early application is encouraged. Coursework must be documented through course descriptions or syllabi. Internship may be documented through a letter from the internship site or school.
The license application fee is $125.
The supervisor will provide a report at the conclusion of the supervisory period; this will include an assessment of performance and recommendation for independent practice. The Vermont Board will also require documentation of supervisor license.
Registration and licensure application forms are available online (https://sos.vermont.gov/allied-mental-health/forms-instructions/).
Out-of-State Counselors
Counselors who have held mental health counseling licensure or certification in other states are required to submit verification.
Those who have practiced fewer than five years can be licensed by endorsement if the state had substantively equivalent standards; a copy of the regulations will be required. Those who came from states that required only one licensing examination (either the NCE or NCMHCE) will need to take the remaining examination.
Those who have been licensed and in active practice for five years are not required to demonstrate that all standards have been met on the level Vermont requires. Counselors seeking licensure on the basis of "five year rule" will not need to provide a copy of state statutes and rules but will need a letter documenting active practice.
Additional information
The Vermont Board of Allied Mental Health can be found on the web at https://sos.vermont.gov/allied-mental-health/. The licensing specialist can be reached at (802) 828- 2390.
The Vermont Mental Health Counselors Association, a state chapter of the American Mental Health Counselors Association, provides information and resources, but is not involved with the licensing process (http://www.vtmhca.org/).
Find Mental Health Counselor Licensure Requirements in Your State: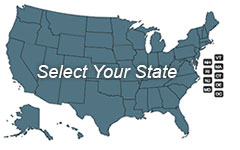 Learn about becoming a Mental Health Counselor in your state:
To View Full U.S. Map Click Here.