Mental Health Counselor License Requirements in Utah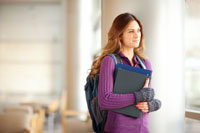 Utah mental health counselors are now known as Licensed Clinical Mental Health Counselors; the state no longer issues Licensed Professional Counselor credentials.
Mental health counseling is a graduate level profession; candidates must also go through an examination process and complete a period of supervised practice. Counselors first come under the jurisdiction of the Utah Divisional of Occupational and Professional Licensure (DOPL) when they are completing their postgraduate supervised practice requirements.
<!- mfunc feat_school ->
Sponsored School(s)
Featured Programs:
Pepperdine University Graduate School of Education and Psychology's Master of Arts in Clinical Psychology Licensed Professional Counselor track prepares a student to become a licensed professional counselor (LPC) in various states. Graduates will first pursue licensure as an associate professional clinical counselors (APCC). Click here to learn more about the Master of Arts in Clinical Psychology program at Pepperdine University.

---

Grand Canyon University

offers an M.S. in Clinical Mental Health Counseling with an Emphasis in Childhood and Adolescence Disorders; Christian Counseling; Marriage & Family Therapy and Trauma.

---

Arcadia University

offers an Online Graduate Certificate in Infant Toddler Mental Health.

Click here

to contact Arcadia University and request information about their programs.

---

Butler University

Positively Impact Lives with a Master's Degree in Counseling - Online Master of Science in Mental Health Counseling

---

Eastern Oregon University's

online MS in Clinical Mental Health Counseling program will help you learn to utilize complex critical thinking skills in the pursuit of fulfilling work in the industry of your choice.

---

Rivier University's

online Master of Arts in Clinical Mental Health Counseling degree program offers the framework and professional training needed to start a rewarding career as a licensed clinical mental health counselor.

---
<!- /mfunc feat_school ->
Select a Utah Cinical Mental Health Counselor Licensure Topic:
Educational Requirements
To be licensed as an LCMHC , one must have a degree at the master's or doctoral level (https://rules.utah.gov/publicat/code/r156/r156-60c.htm). There are two options.
A program of 60 semester hours or more will be accepted as meeting all requirements, provided it is accredited as a 'clinical mental health counseling 'or 'counselor education and supervision' program by the Council for Accreditation of Counseling and Related Educational Programs (CACREP). CACREP-accredited programs at the doctoral level have a 'counselor education and supervision' accreditation. Prospective students can search for accredited programs on the CACREP website (http://www.cacrep.org/directory/).
A 60 semester hour program can also be accepted on the basis of institutional accreditation by an agency recognized by the Council for Higher Education Accreditation (CHEA) — provided that the program also meets the Board's coursework requirements.
The student will need six semester hours (or nine quarter hours) of coursework in helping relationships. Coursework should cover counseling theory and practice and couple, family, or individual psychotherapy.
The student will need at least four semester hours in each of the following:
Mental status assessment (including DSM appraisal)
Practicum or internship
The student will need at least two semester hours in each of the following:
Social and cultural diversity
Human growth and lifespan development
Group work
Career development
Substance use disorders or addictive/ compulsive behaviors
Psychometric testing/ measurement theory
Mental health counseling research and evaluation
Professional orientation/ ethics
Ethics coursework must be based on the standards of the American Counseling Association, American Mental Health Counselors Association, or National Board for Certified Counselors.
The student will need at least 34 additional semester hours of coursework related to counseling practice. No more than six semester hours of thesis, dissertation, or project work can be credited toward the minimum hours.
Examination Requirements
According to R156-60c-302c of the Clinical Mental Health Counselor Licensing Act Rule, a candidate must take two licensing examinations, the National Counselor Examination and the National Clinical Mental Health Counseling Examination (http://dopl.utah.gov/laws/R156-60c.pdf). Both examinations are under the banner of the National Board for Certified Counselors. The NBCC can be reached at 336-217-4111. Candidates who are unsure of the process are directed to email exam at cce-global.org.
A graduate can find registration forms on the NBCC website (http://www.nbcc.org/directory/UT).
At first registration, the candidate will submit an official transcript as well as registration form and fee (currently $195). The candidate will need to wait for email/ postcard confirmation from the NBCC before scheduling a computer-delivered examination. Examinations are typically available two weeks a month. The candidate will schedule through AMP (goAMP.com).
Utah has just one testing site: in Salt Lake City. However, candidates are allowed to schedule at any of more than 190 testing sites located throughout the United States.
NCE and NCMHCE candidate handbooks can be downloaded from the DOPL website or the 'Utah' page of the NBCC website.
Supervision/Experience Requirements
Utah requires two years of qualifying supervised practice in an employment capacity. The graduate must accrue at least 4,000 total experience hours. At least 1,000 must be in mental health therapy.
The individual will need to be under appropriate supervision. The supervisor may be a clinical mental health counselor, clinical social worker, marriage and family therapist, psychiatric mental health nurse specialist, psychologist, psychiatrist, or physician, but must meet experience requirements set by the licensing agency.
The supervisee will need at least 100 hours of face-to-face supervision.
The Application Process
An in-state candidate typically applies first at the Associate Clinical Mental Health Counselor level. (Supervised practice must be earned while holding credentialing as either an Associate Clinical Mental Health Counselor or an Associate Clinical Mental Health Counselor Extern. (The extern credential is issued only in cases where an individual has a qualifying graduate degree but lacks some coursework required by Utah DOPL.)
Education is documented at first application. Official transcripts will be required. A candidate who has completed any program other than CACREP-accredited mental health counseling will need to list the courses that met specific Board requirements; the applicant is advised to attach additional supporting information such as syllabi or course descriptions.
Click Here to find the applications and additional materials you will need.
$85 is paid with the associate application.
The associate license is issued for three years and is extended only in cases where the counselor can demonstrate that he or she is on track toward licensure.
Supervised practice is documented at the LCMHC level.
$120 is due with the LCMHC application.
Applications may be mailed or hand delivered to the DOPL office in Salt Lake City; post offices and physical addresses are listed in the application packet.
Out-of-State Candidates
Counselors can be licensed by endorsement if they 1) hold licenses in good standing in other jurisdictions and 2) have accrued at least 4,000 hours of lawful practice.
Candidates who do not meet endorsement requirements but have already completed supervised practice must document that the experience was equivalent in order to receive credit for it. A candidate who cannot document supervised practice that meets state standards will need to begin at a lower level of licensure.
Counselors who have been licensed in other states will use the license verification form found in the application packet.
Additional Information
LCMHC licensing information can be found on the site of the Utah DOPL (https://dopl.utah.gov/cmhc/index.html).
The Utah Mental Health Counselors Association is an additional professional resource (umhca.org).
Find Mental Health Counselor Licensure Requirements in Your State: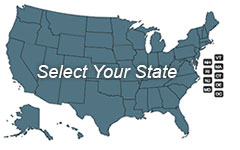 Learn about becoming a Mental Health Counselor in your state:
To View Full U.S. Map Click Here.