Mental Health Counselor Licensure in Rhode Island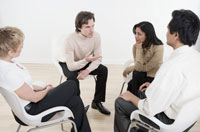 Rhode Island's mental health counselors are regulated by the Rhode Island Department of Health: Board of Mental Health Counselors and Marriage & Family Therapists. Licensure is dependent on earning a graduate degree in an allied field, providing clinical counseling services under supervision, and passing a specialty mental health counseling examination.
<!- mfunc feat_school ->
Sponsored School(s)
Featured Programs:

Capella University Offers four CACREP- accredited master's programs online: MS in Clinical Mental Health Counseling, MS in School Counseling – Addiction Treatment and Recovery, MS in School Counseling – General School Counseling, MS in School Counseling – Child and Adolescent Counseling. Capella also offers a COAMFTE-accredited MS in Marriage and Family Therapy. Click here to contact Capella University and request information about their programs.

---

Pepperdine University Graduate School of Education and Psychology's Master of Arts in Clinical Psychology Licensed Professional Counselor track prepares a student to become a licensed professional counselor (LPC) in various states. Graduates will first pursue licensure as an associate professional clinical counselors (APCC). Click here to learn more about the Master of Arts in Clinical Psychology program at Pepperdine University.

---

Grand Canyon University

offers an M.S. in Clinical Mental Health Counseling with an Emphasis in Childhood and Adolescence Disorders; Christian Counseling; Marriage & Family Therapy and Trauma.

---

Arcadia University

offers an Online Graduate Certificate in Infant Toddler Mental Health.

Click here

to contact Arcadia University and request information about their programs.

---

Butler University

Positively Impact Lives with a Master's Degree in Counseling - Online Master of Science in Mental Health Counseling

---

Eastern Oregon University's

online MS in Clinical Mental Health Counseling program will help you learn to utilize complex critical thinking skills in the pursuit of fulfilling work in the industry of your choice.

---

Rivier University's

online Master of Arts in Clinical Mental Health Counseling degree program offers the framework and professional training needed to start a rewarding career as a licensed clinical mental health counselor.

---
<!- /mfunc feat_school ->
Select a Rhode Island Mental Health Counselor Licensure Topic:
Educational Requirements
A candidate may be licensed on the basis of a master's degree, certificate of advanced graduate studies, or doctoral degree (http://sos.ri.gov/documents/archives/regdocs/released/pdf/DOH/7018.pdf). The total program must be at least 60 semester hours or the equivalent 90 quarter hours. The degree may be in mental health counseling or in an allied field such as community mental health, counseling psychology, marriage and family therapy, or education with a counseling or psychology concentration. However, the program must include coursework in core content areas, distributed as follows:
Human growth and development: 3 credits
Helping relationships/ counseling theory: 9 credits
Groups: 3 credits
Social and cultural foundations: 3 credits
Appraisal: 3 credits
Lifestyle and career development: 3 credits
Research and program evaluation: 3 credits
Professional orientation: 3 credits
Professional orientation includes concepts such as professional roles, ethical standards, the history of helping professions, and the effects of public policy. Human development concepts include personality theory, lifespan transitions, developmental crises and other abnormal behavioral patterns, as well as strategies for facilitating development. A description of concepts that are addressed under each content area can be found in Appendix A of the licensing rules and regulations (http://sos.ri.gov/documents/archives/regdocs/released/pdf/DOH/7018.pdf).
The practicum is to be 12 semester hours or 18 quarter hours. The internship is to be a full year at 20 hours a week. It may be supervised by the degree-granting institution or by an appropriately accredited postgraduate training program. In some cases, equivalent experience may be accepted.
Electives may be in areas of specialization. Interdisciplinary studies that add skills or knowledge are also acceptable.
Postgraduate Experience Requirements
Graduates will need to work under supervision for a minimum of two years. They will need to accrue at least 2,000 hours of direct experience providing therapy or clinical counseling. The Board requires 100 supervision hours.
Approved supervisors are mental health practitioners who have held licenses in good standing for at least five years and have had at least five years of post-licensure clinical experience. Additionally, they must have training acceptable to the Board. This may be demonstrated through a graduate course in supervision, supervisor approval through the National Board for Certified Counselors, or two years of experience supervising clinical staff. Qualifying mental health practitioners include the following: mental health counselors, marriage and family therapists, independent social workers, psychologists, and psychiatrists.
The Examination Process
Rhode Island requires the National Clinical Mental Health Counseling Examination (NCMHCE). The NCMHCE is administered by the National Board for Certified Counselor.
Approved candidates will send the registration form and fee (currently $195) to the NBCC. They will wait for confirmation of eligibility from the NBCC, then schedule at their choice of participating AMP (www.goAMP.com) locations. Rhode Island candidates may take the examination in the greater Providence area or in another state. Examinations are generally available on weekdays during the first two weeks of the calendar month. Some sites also have Saturday testing slots.
A link to the NCMHCE candidate guide can be found on the 'Rhode Island' page of the NBCC website (http://www.nbcc.org/directory/RI).
Although Rhode Island will hold applications open for up to one year, fee payment grants only a six month eligibility window.
A candidate who fails an examination must wait at least three months before retesting. Additional fees will be due. The registration form will again be available through the Rhode Island Board.
Candidates who have already taken the NCMHCE may contact the NBCC at 1-336-547-0607.
The Application Process
Individuals apply when they have completed all requirements except examination. In some instances, an applicant will have already taken the examination. Application forms are available online (https://health.ri.gov/licenses/detail.php?id=228).
Applicants must provide two character references.
Official transcripts will also be required. Applicants will list qualifying coursework on a course worksheet. If content is not clear from course title, a course description should be included.
U.S.-born applicants will provide copies of their birth certificates. Applicants born outside the United States will provide other evidence of legal status.
A two by two passport-style photograph is to be affixed to the indicated space in the application. A nonrefundable $70 fee must be included.
Documents should be mailed to the Rhode Island Department of Health Board of Mental Health Counselors and Marriage & Family Therapists, located in Providence. Applicants should have their forms in 30 days in advance of the meeting in which they want them reviewed.
The Board notes that it may take four to eight weeks for the license to be issued. Applicants with criminal, disciplinary, or malpractice histories can expect a longer review period (two to three months).
Out-of-State Licensees
Clinical mental health counselors can be endorsed into Rhode Island if the licensing standards are found to be at least equivalent.
Endorsement candidates will send the interstate verification form found in the application packet to each state where they have ever held licensing.
Additional Information
Mental health counselor licensing information can be accessed on the site of the Rhode Island Department of Health (https://health.ri.gov/licenses/detail.php?id=228). The most current revision of the rules and regulations is from 2012. Applicants should be aware that policies change periodically. Applicants may contact the Board at 401-222-2828.
The Rhode Island Mental Health Counselor Association is not involved with the licensing process but serves as an additional professional resource (http://www.rimhca.org).
Find Mental Health Counselor Licensure Requirements in Your State: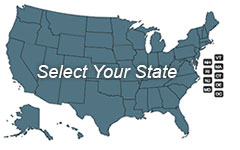 Learn about becoming a Mental Health Counselor in your state:
To View Full U.S. Map Click Here.