Mental Health Counselor License Requirements in Pennsylvania
Pennsylvania mental health counselors are credentialed as Licensed Professional Counselors, or LPCs. Education is based on education, examination, and supervised practice. The educational level and minimum credit hour requirements are at the level specified by national mental health counseling accrediting and certification agencies. However, the Pennsylvania LPC is a generic license that can be earned by professionals in multiple counseling and counseling-related disciplines.
<!- mfunc feat_school ->
Sponsored School(s)
Featured Programs:

Capella University Offers four CACREP- accredited master's programs online: MS in Clinical Mental Health Counseling, MS in School Counseling – Addiction Treatment and Recovery, MS in School Counseling – General School Counseling, MS in School Counseling – Child and Adolescent Counseling. Capella also offers a COAMFTE-accredited MS in Marriage and Family Therapy. Click here to contact Capella University and request information about their programs.

---

Pepperdine University Graduate School of Education and Psychology's Master of Arts in Clinical Psychology Licensed Professional Counselor track prepares a student to become a licensed professional counselor (LPC) in various states. Graduates will first pursue licensure as an associate professional clinical counselors (APCC). Click here to learn more about the Master of Arts in Clinical Psychology program at Pepperdine University.

---

Grand Canyon University

offers an M.S. in Clinical Mental Health Counseling with an Emphasis in Childhood and Adolescence Disorders; Christian Counseling; Marriage & Family Therapy and Trauma.

---

Arcadia University

offers an Online Graduate Certificate in Infant Toddler Mental Health.

Click here

to contact Arcadia University and request information about their programs.

---

Butler University

Positively Impact Lives with a Master's Degree in Counseling - Online Master of Science in Mental Health Counseling

---

Eastern Oregon University's

online MS in Clinical Mental Health Counseling program will help you learn to utilize complex critical thinking skills in the pursuit of fulfilling work in the industry of your choice.

---

Rivier University's

online Master of Arts in Clinical Mental Health Counseling degree program offers the framework and professional training needed to start a rewarding career as a licensed clinical mental health counselor.

---
<!- /mfunc feat_school ->
Select a Pennsylvania Mental Health Counselor Licensure Topic:
Educational Requirements
The counselor must have education at the master's or doctoral level. The degree may be earned in counseling or a closely related field. The following are considered closely related degrees (http://www.pacode.com/secure/data/049/chapter49/chap49toc.html):
Art therapy
Child development and family studies
Counseling education
Dance therapy
Drama therapy
Human services
Music therapy
Psychiatry
Psychology
The program must include the following core counseling content:
Human growth and development
Helping relationships
Appraisal
Cultural and social foundations
Lifestyle and career development
Group work
Professional orientation
Research and program evaluation
Each content area is to be represented by at least two semester hours or three quarter hours.
The student will need to complete practicum and internship experiences. Practicum is to be at least 100 hours; internship, at least 600.
The student will need at least 60 total semester hours of graduate coursework. Some credits may be earned subsequent to the granting of the master's degree. However, the degree itself must be comprised of at least 48 semester hours unless it was earned before July 1, 2009. 90 quarter hours is considered the equivalent of 60 semester hours.
Supervised Practice Requirements
A graduate must work under clinical supervision until he or she has met the requirements outlined in Chapter 49 of state code (http://www.pacode.com/secure/data/049/chapter49/s49.13.html). The clinical supervisor will be a professional who has at least five years of experience (http://www.pacode.com/secure/data/049/chapter49/s49.3.html). The Pennsylvania Board requires two hours of supervision for every 40 clinical experience hours. Up to half of the supervision may take place in a group setting.
An individual whose highest degree is at the master's level will need to accrue 3,000 hours of supervised practice. In order to be credited, the experience must be earned after the supervisee has completed at least 48 semester hours of coursework. An individual with a doctoral degree need complete only 2,400 hours of supervised practice. Half the required hours (1,200) must be completed after conferral of the doctoral degree.
At least half of the clinical experience must be spent providing services in the following areas:
Counseling
Therapy
Psychotherapy
Family therapy
Group therapy
Other therapeutic interventions
Assessment
Consultation
The supervisee must work at least 500 hours in a given year in order to credit the experience. Part-time work may be credited if it comprises at least 15 hours a week and takes places over a period of at least six months. The Pennsylvania Board will accept a three month stint if the supervisee works at least 30 hours a week.
The total supervision period will be between two and six years. The Pennsylvania Board will credit no more than 1,800 hours in a given year.
Examination Requirements
Pennsylvania will accept any of multiple licensing examinations, including certification examinations designed for addiction counselors, rehabilitation counselors, and art therapists (http://www.pacode.com/secure/data/049/chapter49/s49.11.html).
The National Counselor Examination (NCE) is a generalist counseling examination and one of two tests that is in widespread usage nationwide to license mental health counselors. The NCE is under the banner of the National Board for Certified Counselors (NBCC).
The NCE is a computer-delivered examination. It is available two weeks out of each month. A Pennsylvania candidate can opt to take it at any of nearly 200 computerized testing sites around the nation. There are four testing sites in Pennsylvania: in Harrisburg, Philadelphia, Pittsburgh, and Wyoming.
Pennsylvania candidates may register directly with the NBCC. The NBCC will require official sealed transcripts that show conferral of a master's degree in counseling or a related field. A fee of $185 must be mailed with the registration form; it can be paid by check or money order. The candidate cannot schedule an examination until authorized by email or postcard; the NBCC advises candidates that this may take four weeks from the time the check clears. Status inquiries may be directed to 'exam at cce-global.org'. Candidates are advised to include the name of the state in the subject line.
Once authorized, the candidate may contact Applied Measurement Professionals (AMP) to schedule. Fee payment grants a six month eligibility window. A candidate who is unsuccessful will need to wait three months before attempting the examination again. The fee will again be $185. A candidate who submits a Pennsylvania license examination will need to complete the examination process in Pennsylvania before seeking licensure in other states.
Registration forms and examination handbooks are available on the website of the National Board for Certified Counselors (http://www.nbcc.org/stateboardmap//PA). The registration inset includes a list of testing windows for the upcoming year.
The Application Process
Candidates can submit their license applications online through the MyLicense website (http://www.dos.pa.gov/ProfessionalLicensing/BoardsCommissions/Pages/Online-Licensing-Services.aspx#.VMpizoW8yoD).
Out-of-State Counselors
An actively licensed counselor can be endorsed into Pennsylvania if he or she has accrued 3,000 hours under supervision and has practiced actively for five of the preceding seven years (http://www.pacode.com/secure/data/049/chapter49/s49.18.html). The out-of-state license must be in good standing.
An out-of-state counselor may be licensed by reciprocity if similar requirements were met in another state (http://www.pacode.com/secure/data/049/chapter49/s49.16.html). State code specifies that the counselor must have passed a comparable examination.
Additional Information
The Pennsylvania State Board of Social Workers, Marriage and Family Therapists and Professional Counselors (http://www.dos.pa.gov/ProfessionalLicensing/SocialWorkersMarriageanFamilyTherapistsandProfessionalCounselors/Pages/default.aspx) can be reached by telephone at 717-783-1389 or by email at 'ST-SOCIALWORK at PA.GOV'.
Find Mental Health Counselor Licensure Requirements in Your State: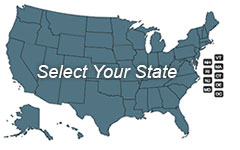 Learn about becoming a Mental Health Counselor in your state:
To View Full U.S. Map Click Here.