Mental Health Counselor License Requirements in Oregon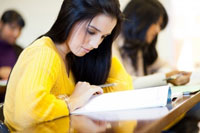 Oregon mental health counselors are licensed as Licensed Professional Counselors. The LPC license, however, is not specific to the mental health counseling specialty. It may be held by professionals in multiple sub-disciplines, including rehabilitation counseling.
<!- mfunc feat_school ->
Sponsored School(s)
Featured Programs:

Capella University Offers four CACREP- accredited master's programs online: MS in Clinical Mental Health Counseling, MS in School Counseling – Addiction Treatment and Recovery, MS in School Counseling – General School Counseling, MS in School Counseling – Child and Adolescent Counseling. Capella also offers a COAMFTE-accredited MS in Marriage and Family Therapy. Click here to contact Capella University and request information about their programs.

---

Pepperdine University Graduate School of Education and Psychology's Master of Arts in Clinical Psychology Licensed Professional Counselor track prepares a student to become a licensed professional counselor (LPC) in various states. Graduates will first pursue licensure as an associate professional clinical counselors (APCC). Click here to learn more about the Master of Arts in Clinical Psychology program at Pepperdine University.

---

Grand Canyon University

offers an M.S. in Clinical Mental Health Counseling with an Emphasis in Childhood and Adolescence Disorders; Christian Counseling; Marriage & Family Therapy and Trauma.

---

Arcadia University

offers an Online Graduate Certificate in Infant Toddler Mental Health.

Click here

to contact Arcadia University and request information about their programs.

---

Butler University

Positively Impact Lives with a Master's Degree in Counseling - Online Master of Science in Mental Health Counseling

---

Eastern Oregon University's

online MS in Clinical Mental Health Counseling program will help you learn to utilize complex critical thinking skills in the pursuit of fulfilling work in the industry of your choice.

---

Rivier University's

online Master of Arts in Clinical Mental Health Counseling degree program offers the framework and professional training needed to start a rewarding career as a licensed clinical mental health counselor.

---
<!- /mfunc feat_school ->
Select an Oregon Mental Health Counselor Licensure Topic:
Educational Requirements
A student must earn a degree at the graduate level. The Oregon Board of Licensed Professional Counselors and Therapists recognizes three program-level counseling and therapy accreditations: CACREP, CORE, and COAMFTE; of theses, CACREP is the agency that typically accredits mental health counseling. If a counseling program does not have a recognized programmatic accreditation, it must be housed in a regionally accredited institution and otherwise meet standards of the Oregon Board.
Students who earn their degrees from October 1, 2014 onward must have at least 60 semester hours in their programs (http://arcweb.sos.state.or.us/pages/rules/oars_800/oar_833/833_060.html). Programs must include at least 700 hours of supervised clinical experience; at least 280 must be direct client contact.
Programs must include core counseling content. There are to be at least two semester hours in each of the following areas:
The helping relationship
Human growth and development
Counseling theory
Social and cultural foundations
Group dynamics/ processing/ counseling
Diagnosis and appraisal
Lifestyle and career development
Professional orientation
Research and evaluation
The program is to include 24 hours of supporting coursework or coursework in the student's specialty area (http://arcweb.sos.state.or.us/pages/rules/oars_800/oar_833/833_060.html).
Graduates who earned degrees prior to October of 2014 can be licensed on the basis of programs that were as short as 48 semester hours and included only 600 hours of supervised experience.
Supervised Experience Requirements
A prospective LPC will need a total of at least 2,400 client contact hours, the equivalent of three full-time years (http://arcweb.sos.state.or.us/pages/rules/oars_800/oar_833/833_030.html). The client may credit up to 400 client contact hours from a license qualifying graduate degree program. All other hours earned within Oregon must be earned while holding an intern license; at least 1,000 must be under a Board approved plan.
The clinical supervisor must be a mental health professional who has at least three years of postgraduate experience. The Board has provided a list of approved supervisors. However, there are options not reflected on the list. Other professionals such as psychologists and social workers may also meet Board requirements.
There must be at least two supervisory sessions a month. The supervisee must have at least three hours of direct supervision during months in which 46 or more hours were accrued and at least two hours of direct supervision in months in which fewer hours were accrued. Up to half the required monthly supervision may take place in a group setting with as many as six supervisees in attendance. However, staff meetings are not creditable. Nor are training seminars, discussion groups, quality assurance groups, or meetings where leadership shifts.
If an intern does not receive the required supervision in a given month, no experience hours will be credited for that month (http://www.oregon.gov/oblpct/Pages/experience.aspx).
At least 25% of supervision hours must be face-to-face; the remaining supervision may utilize electronic devices.
Interns are allowed five years to meet experience requirements. A one year extension may be granted in certain circumstances. The supervisor must report hours and make evaluations on a six month basis. An intern license may be revoked for failure to submit required documentation.
A candidate who wish to apply any client contact hours earned in the degree programs toward the supervised practice requirement will need to have a form filled out by a representative of the graduate school.
Examination Requirements
An LPC candidate must pass a qualifying examination. Oregon will accept either the National Counselor Examination (NCE) or the National Mental Health Counseling Examination (NCMHCE). Both are under the banner of the National Board for Certified Counselors. These two examinations are used as part of the licensing process around the nation; some states specify which one a candidate must take.
In some cases, students take the NCE while still enrolled as graduate students. Applicants who have not yet taken a qualifying examination will receive their NCE/ NCMHCE registration materials from the Oregon Board. They will submit registration forms and fees to the NBCC; currently the cost is $195 for either examination (http://www.nbcc.org/directory/OR).
Candidates must wait for email/ postcard confirmation from the NBCC. Once eligibility has been confirmed, the candidate may schedule at any of more than 190 authorized AMP sites in the nation, including the six Oregon locations: Bend, Eugene, Klamath Falls, Medford, Portland, or Salem. The examination is administered by computer and is generally available two weeks out of the month.
Oregon will also accept a national certifying examination for rehabilitation counselors.
Criminal Background Checks
Oregon requires fingerprint-based background checks (http://arcweb.sos.state.or.us/pages/rules/oars_800/oar_833/833_120.html). Candidates initiate the process by requesting materials from the Board; they can then utilize any law enforcement agency that offers fingerprinting services (http://www.oregon.gov/oblpct/docs/fingerprinting_packet_instructions.pdf). The background check fee will be paid to the Oregon Board at the time of application.
The Application Process
Application forms are available for download from the Board website (http://www.oregon.gov/oblpct/Pages/Forms.aspx).
Candidates typically apply first at the intern level. Education is documented at this time. Transcripts are to be sent directly to the Oregon Board from the issuing institution.
If the program does not have one of the accepted program-level accreditations and has not received prior approval by the Oregon Board of Licensed Professional Counselors and Therapists, the candidate will need to have Form 6A signed by a school representative. The form asks about the accreditation, the number of semester hours or quarter hours required, the number of supervised practice hours required, and the number actually completed by the student.
The professional disclosure statement is first required at the intern level. There is a sample available on the Board website (https://www.oregon.gov/oblpct/Pages/index.aspx).
The application fee and background check together come to $172.25 (http://arcweb.sos.state.or.us/pages/rules/oars_800/oar_833/833_070.html).
Out-of-State Counselors
Counselors who hold licenses in good standing in other states, and who were licensed on the basis of substantially similar requirements, may be licensed by reciprocity (http://arcweb.sos.state.or.us/pages/rules/oars_800/oar_833/833_020.html). They will need to have earned a qualifying degree, passed a competency examination, and met a supervised practice requirement. Some allowances are made for experienced counselors with regard to semester hour and supervised practice minimums.
Additional Information
The Oregon Board of Licensed Professional Counselors and Therapists can be found on the web at http://www.oregon.gov/oblpct/Pages/index.aspx. The intake coordinator can be reached by email or telephone (http://www.oregon.gov/oblpct/Pages/contact_us.aspx).
Find Mental Health Counselor Licensure Requirements in Your State: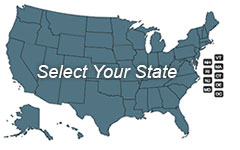 Learn about becoming a Mental Health Counselor in your state:
To View Full U.S. Map Click Here.