Mental Health Counselor License Requirements in Oklahoma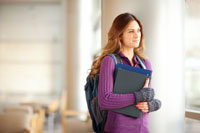 Oklahoma mental health counselors are licensed as Licensed Professional Counselors. Professionals with training in different sub-disciplines of counseling may achieve the same credential. However, Board regulations stipulate that counselors practice within their own areas of competency, based on education, training, experience, and credentials.
<!- mfunc feat_school ->
Sponsored School(s)
Featured Programs:
Pepperdine University Graduate School of Education and Psychology's Master of Arts in Clinical Psychology Licensed Professional Counselor track prepares a student to become a licensed professional counselor (LPC) in various states. Graduates will first pursue licensure as an associate professional clinical counselors (APCC). Click here to learn more about the Master of Arts in Clinical Psychology program at Pepperdine University.

---

Grand Canyon University

offers an M.S. in Clinical Mental Health Counseling with an Emphasis in Childhood and Adolescence Disorders; Christian Counseling; Marriage & Family Therapy and Trauma.

---

Arcadia University

offers an Online Graduate Certificate in Infant Toddler Mental Health.

Click here

to contact Arcadia University and request information about their programs.

---

Butler University

Positively Impact Lives with a Master's Degree in Counseling - Online Master of Science in Mental Health Counseling

---

Eastern Oregon University's

online MS in Clinical Mental Health Counseling program will help you learn to utilize complex critical thinking skills in the pursuit of fulfilling work in the industry of your choice.

---

Rivier University's

online Master of Arts in Clinical Mental Health Counseling degree program offers the framework and professional training needed to start a rewarding career as a licensed clinical mental health counselor.

---
<!- /mfunc feat_school ->
Select an Oklahoma Mental Health Counselor Licensure Topic:
Educational Requirements
The student will need to earn a degree at the master's level or higher (http://www.ok.gov/behavioralhealth/ACADEMIC_REQUIREMENTS_-_LPC.html). It may be in professional counseling or in another mental health field if the content is deemed substantially equivalent. The program must be planned and sequential. Total program length is to be at least 60 semester hours (inclusive of internship).
Each of the following core content areas must be represented through at least one course:
Human growth and development
Abnormal behavior
Research
Professional orientation/ ethics
Practicum/ internship
The internship/ practicum experience must comprise at least 300 hours.
There must be at least two courses in each of the following content areas:
Counseling techniques/ methods
Assessment/ appraisal
An additional five courses are to be drawn from a range of approved options, including addiction counseling, personality theories, marriage and family counseling, psychopharmacology, group dynamics, and lifestyle and career development.
Additional coursework needed to reach the 60 semester hour minimum may be pursued in elective or required areas.
Supervised Practice Requirements
Oklahoma requires three years (or 3,000 hours) of experience of candidates who have education at the master's level. Those with additional education beyond the required 60 semester hours can be licensed after a shorter experience period; Oklahoma will credit 30 semester hours as the equivalent of a year of experience.
Every 1,000 hours is to include at least 350 hours spent face-to-face with clients.
The candidate must have a qualified Licensed Professional Counselor to act as supervisor. This professional is not required to be employed at the same facility. The LPC candidate is to have at least 45 minutes of direct supervision for every 20 hours of experience. The supervisee is subject to six month evaluations. The supervisor will perform at least two observations (live or taped) during each evaluation period.
There must also be a qualified mental health professional employed at the facility who is "immediately available" to the supervisee. This professional may be licensed as a professional counselor or as a marital and family therapist, alcohol and drug counselor, clinical social worker, behavioral practitioner, psychologist, or psychiatrist.
Examination Requirements
A candidate will need to take a national board examination and a state jurisprudence examination. The candidate is eligible to take the examinations after meeting educational requirements; the Board will grant authority after receiving a complete application packet.
The national board examination is the National Counselor Examination, or NCE, which is under the banner of the National Board for Certified Counselors. Approved candidates will receive registration forms from the Oklahoma Department of Health. The registration form must be signed in ink and sent to the NBCC, accompanied by the required fee (currently $195).
Candidates may wait about four weeks for postcard confirmation from the NBCC. At this point, they will be allowed to schedule their computer-delivered examination at any of the more than 190 authorized AMP testing sites in the nation. In-state locations are Tulsa and Oklahoma City. The exam is generally available on weekdays during the first two full weeks of the calendar month. Candidates may contact AMP at 888-519-9901 to find testing centers that have Saturday hours.
The' Oklahoma' page of the NBCC site includes a link to the NCE candidate handbook (http://www.nbcc.org/directory/OK). The licensing agency will receive official results approximately four to five weeks after the candidate tests.
While Board authorization grants a two-year eligibility window, fees and registration are only valid for six months. Moreover, a candidate who fails an examination attempt is required to wait three months before making another attempt. The Oklahoma Board will close applications of individual who do not meet testing requirements within a two year period.
The candidate must also pass the Oklahoma Legal and Ethical Responsibilities Exam (OLERE) with a score of at least 70%. The OLERE covers the LPC Act and Regulations (http://www.ok.gov/behavioralhealth/Acts_and_Regulations/index.html). It is multiple choice. The exam is administered at the state's technology centers. The fee is $40. A list of locations is available on the site of Oklahoma Career Tech (http://www.okcareertech.org/educators/assessments-and-testing/health-certification-project-hcp/professional-counselor-licensing). The candidate will need to bring the eligibility confirmation letter. The Board will allow a candidate who fails an OLERE attempt to test again after as little as three days.
The Application Process
An in-state candidate will submit an application after educational requirements have been met, but before the supervision and examination process is complete. Application packets and supporting documents are available on the Board website (http://www.ok.gov/behavioralhealth/Board_Forms/index.html).
Some steps will need to be completed beforehand. A fingerprint-based background check is among the requirements. The candidate may contact the Board office to receive fingerprint cards; it is also acceptable to use the cards provided by a local sheriff's office (http://www.ok.gov/behavioralhealth/Making_Application.html). The fingerprint cards must be included within the application packet.
Internship/ practicum must be verified by a supervisor or school official. The candidate will also need three completed recommendation forms at initial application. Official transcripts are to be included in the application package in signed sealed envelopes.
A candidate who needs to complete supervised practice must include a supervision plan, verification of on-site supervision, and a professional disclosure statement.
The application fee is $145.
The Board recommends that candidates send application packets by certified mail.
Out-of-State Counselors
Counselors who have demonstrated comparable qualifications in another jurisdiction can be licensed by endorsement. Out-of-state counselors will submit the license verification form to their licensing agency along with any fees the receiving agency may require; the form will be returned to the candidate in a sealed envelope for inclusion in the application packet.
Endorsement requirements are slightly different for those who have been licensed five or more years. Experienced counselors are not required to submit an internship/ practicum verification form (http://www.ok.gov/behavioralhealth/documents/APPLICATION%20INVENTORY%20FORM%20-%205%20YEAR%20ENDORSEMENT%20(Updated%209-8-13).pdf).
Specialty Designations
As per Section 1917 of the Licensed Professional Counselors Act, counselors who wish to advertise a counseling specialty must take the appropriate examination and have their qualifications approved by both the certification agency and the Oklahoma Department. (http://www.ok.gov/behavioralhealth/Acts_and_Regulations/index.html)
Additional Information
The Oklahoma State Board of Behavioral Health Licensure is found on the web at http://www.ok.gov/behavioralhealth. Applicants may call (405) 522-3698 to discuss educational requirements with the designated professional.
Find Mental Health Counselor Licensure Requirements in Your State: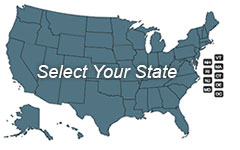 Learn about becoming a Mental Health Counselor in your state:
To View Full U.S. Map Click Here.