Mental Health Counselor Licensure in Ohio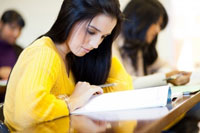 Ohio mental health counselors are licensed as Licensed Professional Clinical Counselors (LPCCs or PCCs). This is the state's highest counseling license. Both LPCCs and Licensed Professional Counselors have a scope of practice that allows for private practice; however, only LPCCs have a scope of practice that includes treatment and diagnosis of mental disorders.
The LPCC license is granted on the basis of graduate education, supervised clinical experience, and a multi-step examination process. An in-state candidate will begin supervised practice as a Counselor Trainee or Licensed Professional Counselor/ Clinical Resident.
<!- mfunc feat_school ->
Sponsored School(s)
Featured Programs:
Pepperdine University Graduate School of Education and Psychology's Master of Arts in Clinical Psychology Licensed Professional Counselor track prepares a student to become a licensed professional counselor (LPC) in various states. Graduates will first pursue licensure as an associate professional clinical counselors (APCC). Click here to learn more about the Master of Arts in Clinical Psychology program at Pepperdine University.

---

Grand Canyon University

offers an M.S. in Clinical Mental Health Counseling with an Emphasis in Childhood and Adolescence Disorders; Christian Counseling; Marriage & Family Therapy and Trauma.

---

Arcadia University

offers an Online Graduate Certificate in Infant Toddler Mental Health.

Click here

to contact Arcadia University and request information about their programs.

---

Butler University

Positively Impact Lives with a Master's Degree in Counseling - Online Master of Science in Mental Health Counseling

---

Eastern Oregon University's

online MS in Clinical Mental Health Counseling program will help you learn to utilize complex critical thinking skills in the pursuit of fulfilling work in the industry of your choice.

---

Rivier University's

online Master of Arts in Clinical Mental Health Counseling degree program offers the framework and professional training needed to start a rewarding career as a licensed clinical mental health counselor.

---
<!- /mfunc feat_school ->
Select an Ohio Mental Health Counselor Licensure Topic:
Educational Requirements
An LPCC must have a graduate degree. The Board notes that the degree program must be one that is designed specifically to prepare professional counselors. The student is to have 100 hours of practicum and 600 hours of internship as well as coursework in nine core counseling areas. Program requirements are summarized in an application supplement that must be filled out by students who attend programs not specifically approved within Ohio (https://cswmft.ohio.gov/wps/portal/gov/cswmft/for-professionals/resources-for-professionals/laws+and+rules).
The total semester hour requirement is 60.
The student will need 20 semester (or the equivalent 30 semester hours) in the following mental health related content areas:
Clinical psychopathology/ personality/ abnormal behavior
Evaluation of mental disorders
Diagnosis of mental disorders
Intervention, prevention, and treatment
The Board will accept license-qualifying coursework in the above five areas to be completed post-master.
Prospective students should be aware that new rules go into effect January 1, 2018 requiring that in-state degrees be earned through mental health counseling, clinical rehabilitation counseling, or addiction counseling programs that hold CACREP accreditation (https://cswmft.ohio.gov/wps/portal/gov/cswmft/home).
Examination Requirements
An Ohio student will take two national board examinations en route to LPCC licensure. The first is a generalist counseling examination, the second, a mental health counseling examination. Both are under the banner of the National Board for Certified Counselors.
The National Counselor Examination (NCE) is a requirement for licensure at the LPC level. Students who are attending programs that are approved within Ohio and are ready to take the NCE may submit letters from the chair or registrar when they are in their last term. Individuals who are not in Ohio-approved program but wish to test for Ohio LPC status will submit requests to the Ohio Board along with transcripts; this will be done after graduation.
A counselor must pass the National Mental Health Counseling Examination (NMHCE) before an LPCC license can be issued.
Authorized NCE and NCMHCE candidates pay fees (currently $185 per exam) directly to the NBCC. They can expect to wait four weeks for eligibility letters. Examinations are available at AMP computerized testing sites two weeks out of each month. Candidates can opt for any of the following Ohio sites: Brook Park (greater Cleveland area), Cincinnati, Columbus, Dayton, or Toledo. They may, if they prefer, schedule the examination in another state. Examinations are pre-scheduled through AMP (https://online.goamp.com/CandidateHome/CandidateInformation.aspx).
The Board notes that candidates who were licensed on the basis of having taken the PCLE in the past are not required to take the NMHCE.
Candidates must also pass a laws and rules examination; the Board notes that it is really more of a review, and is available online (https://cswmft.ohio.gov/wps/portal/gov/cswmft/preparing-for-a-license/license-prep-resources). The registration fee is currently $30.
Supervised Practice Requirements
Counselors must work under supervision for at least two years and until such time as they accrue 3,000 hours of experience; the actual timeframe may be longer.
Clinical work is to be done under the supervision of a Licensed Professional Clinical Counselor-Supervisor. The counselor/resident must average at least an hour of face-to-face supervision for every 20 hours; the minimum is 150 hours over the two year period. The supervisee is to maintain a supervision log. An evaluation will be submitted after each 1,500 hour period; this will be filled out by the clinical supervisor.
Clinically focused doctoral level internship may be credited toward the supervised practice requirement, up to a maximum of one year.
Fingerprint-Based Background Checks
State and federal criminal backgrounds checks are required at each level (CT, LPC, LPCC) unless the applicant has had a qualifying check made within the prior year. Candidates residing within Ohio should go to a local Webcheck location. The Board has provided the ORI number as well as a link to the state's WebCheck locations (https://cswmft.ohio.gov/wps/portal/gov/cswmft/home). Applicants should verify that information is current.
Out-of-state candidates who cannot come to Ohio are directed to email the Board with 'CRC" in the subject line. The Board will mail fingerprint cards that can then be taken to a local law enforcement agency. The Board notes that the processing period can be four to six weeks and that those who will be traveling to Ohio may find it quicker to wait and complete the WebCheck process in-state.
The Application Process
Individual circumstances dictate when an in-state candidate first applies for a credential. Some students will complete their internships as Counselor Trainees. The Board notes that this credential is not state-mandated, but that some work settings may require that an intern possess it so that the organization can bill for services provided by the intern (https://cswmft.ohio.gov/wps/portal/gov/cswmft/home).
The timeframe for issuance (once application and background check have both been received) can range from under two weeks to a little over four weeks. Trainee status is valid for one academic term plus eight additional weeks; some students will require an extension to complete internship requirements. A trainee who adds or changes site or supervisor will also need to file an extension form.
While a student can complete practicum or internship hours without holding a CT credential, use of the title "Counselor Trainee" is prohibited in these instances (https://cswmft.ohio.gov/wps/portal/gov/cswmft/home).
A graduate will need Licensed Professional Counselor (LPC) status. Documentation of successful performance on the NCE and laws and rules examinations must be provided. The application fee is $60. The Ohio Board has prepared a set of guidelines to streamline both trainee registration and transition to PC licensing (https://cswmft.ohio.gov/wps/portal/gov/cswmft/home).
An Ohio Licensed Professional Counselor who is completing supervised practice requirements will also apply for Clinical Resident status. The credential is mandatory for those who are working toward LPCC status; the Board does not guarantee acceptance of any hours earned by a counselor who does not hold it. The application may be completed online or through submission of a paper form.
Clinical evaluation forms are to be submitted with the LPCC application; they are to be in signed, sealed envelopes.
Application materials that require Board review should be in seven to ten days before a schedule meeting. Currently, meetings are held on the third Friday of the month (https://cswmft.ohio.gov/wps/portal/gov/cswmft/preparing-for-a-license/counselors).
Application and detailed instructions for all licensing levels are available on the Board website (https://cswmft.ohio.gov/wps/portal/gov/cswmft/preparing-for-a-license/counselors/counselors).
Endorsement: Out-of-State Counselors
Counselors applying by endorsement must submit verification from all states where they have ever held licensure (http://codes.ohio.gov/oac/4757-13-06). The document will indicate whether there has been any current or past action against the license.
The Board is authorized to take multiple factors into account, including the number of years licensing has been held as well as whether the education was substantially similar and the supervised practice substantially equivalent.
Additional Information
The State of Ohio Counselor, Social Worker, and Marriage & Family Therapist Board (https://www.cswmft.ohio.gov/) can be reached at 614-466-0912. Contact information for licensure and supervisor coordinators can be found on the Board site (614-466-0912).
The Ohio Mental Health Counselor's Association is an additional resource for the state's clinical counselors (http://www.ohmhca.org).
Find Mental Health Counselor Licensure Requirements in Your State: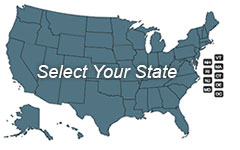 Learn about becoming a Mental Health Counselor in your state:
To View Full U.S. Map Click Here.