Mental Health Counselor Licensure in New York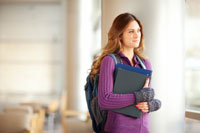 New York's Licensed Mental Health Counselors are regulated by the New York Office of the Professions, under the banner of the Education Department. An individual can be issued a limited permit after completing a qualifying graduate degree. Full licensure depends on passing a national examination and completing a period of supervised work experience.
<!- mfunc feat_school ->
Sponsored School(s)
Featured Programs:

Capella University Offers four CACREP- accredited master's programs online: MS in Clinical Mental Health Counseling, MS in School Counseling – Addiction Treatment and Recovery, MS in School Counseling – General School Counseling, MS in School Counseling – Child and Adolescent Counseling. Capella also offers a COAMFTE-accredited MS in Marriage and Family Therapy. Click here to contact Capella University and request information about their programs.

---

Pepperdine University Graduate School of Education and Psychology's Master of Arts in Clinical Psychology Licensed Professional Counselor track prepares a student to become a licensed professional counselor (LPC) in various states. Graduates will first pursue licensure as an associate professional clinical counselors (APCC). Click here to learn more about the Master of Arts in Clinical Psychology program at Pepperdine University.

---

Grand Canyon University

offers an M.S. in Clinical Mental Health Counseling with an Emphasis in Childhood and Adolescence Disorders; Christian Counseling; Marriage & Family Therapy and Trauma.

---

Arcadia University

offers an Online Graduate Certificate in Infant Toddler Mental Health.

Click here

to contact Arcadia University and request information about their programs.

---

Butler University

Positively Impact Lives with a Master's Degree in Counseling - Online Master of Science in Mental Health Counseling

---

Eastern Oregon University's

online MS in Clinical Mental Health Counseling program will help you learn to utilize complex critical thinking skills in the pursuit of fulfilling work in the industry of your choice.

---

Rivier University's

online Master of Arts in Clinical Mental Health Counseling degree program offers the framework and professional training needed to start a rewarding career as a licensed clinical mental health counselor.

---
<!- /mfunc feat_school ->
Select a New York Mental Health Counselor Licensure Topic:
Educational Requirement
A prospective mental health counselor must complete a mental health counseling degree program through an accredited educational institution. The program may be registered as license-qualifying within New York or judged equivalent. Mental health programs of at least 60 semester hours that are accredited under 2009 CACREP standards are considered equivalent. Candidates who complete other programs may be found to have equivalent education, following review.
The program must include at least 600 hours of practicum and/ or internship. Internship must be completed though an educational program. Course content requirements are outlined on the 'requirements' page (http://www.op.nysed.gov/prof/mhp/mhclic.htm), but actual equivalency will be determined by the appropriate state bureau.
Candidates completing non-CACREP distance learning programs offered through regionally accredited institutions located outside New York are evaluated on an individual basis. Out-of-state programs must seek authorization to place interns in New York facilities.
The licensing agency notes that programs in fields such as school counseling or social work do not meet licensing requirements. An individual who holds such a degree may have education evaluated to determine what additional coursework is required.
The FAQ addresses questions regarding educational deficiencies (http://www.op.nysed.gov/prof/mhp/mhp-education-faq.htm). If the degree is found to be qualifying, the candidate can take additional coursework without completing another degree. If the degree is not found to be license qualifying, the individual will need to complete another degree program. The degree granting institution may, at its discretion, award advanced standing for prior education.
New York has registered several bridge programs for graduates who hold degrees in closely related disciplines like school counseling/ psychology.
Prospective students can search online for in-state programs that have been found to meet license requirements (http://www.nysed.gov/heds/irpsl1.html).
The Bureau of Comparative Education can be reached at 518-474-3817 ext. 300.
Examination Requirement
Candidates for mental health counseling licensure must pass the National Clinical Mental Health Counselor Examination (NCMHCE). Board authorization is required. The Board can grant permission only after the qualifying degree has been earned. The Department of Education will provide registration information when authorization has been granted. At this point, the candidate may register with the National Board for Certified Counselors. The candidate will mail a $200 fee along with the signed registration form.
After receiving notification of eligibility from the NBCC, the candidate will contact Applied Measurement Professionals (AMP) for scheduling of a computerized examination. The examination is available two weeks out of the month. A candidate can schedule at any authorized AMP site in the nation; there are ten sites within New York. State specific information can be found on the 'New York' page of the NBCC website (http://www.nbcc.org/directory/NY). A link to the NCMHCE handbook is available as well.
A candidate who passed the NCMHCE in another jurisdiction should have official verification sent from the NBCC. Candidates who passed the NCMHCE under nonstandard conditions may be required to take the examination again. If accommodations were required by the Americans with Disabilities Act, test results will be accepted; this is not necessarily the case with second language candidates who received extra time or were allowed to use dictionaries during testing.
Supervised Practice Requirement
New York requires 3,000 hours of supervised professional experience (http://www.op.nysed.gov/prof/mhp/mhcapa.htm). At least 1,500 of these hours must be spent in direct client contact. Activities such as case management, record keeping, and professional development may be credited toward the other 1,500 hours. Supervised work experience is to take place in a setting where mental health counseling is authorized. The supervisee is to be under general supervision when providing professional services
A graduate who is accruing hours within the state must first apply for a permit. The supervisor may be licensed as a psychologist, clinical social worker, physician assistant, or registered nurse/ nurse practitioner, but must be competent in mental health counseling. The supervisor is to meet with the supervisee an hour a week or two hours every other week.
A supervisee who practices in more than one setting will need multiple permits. This requires additional paperwork. The licensing agency has provided a FAQ of permit-related questions (http://www.op.nysed.gov/prof/mhp/mhp-permits-faq.htm).
Experience must be post-degree. If a candidate's education has been evaluated by the Bureau of Comparative Education, and it is found that a new degree is not required, experience hours may be credited, even if there are some deficiencies that require remediation (http://www.op.nysed.gov/prof/mhp/mhp-education-faq.htm).
The limited permit is issued for two years. Renewal permits are issued for one year; the limited permit holder is allowed two renewals.
Experience earned out-of-state can be accepted if it was earned legally and the experience is deemed equivalent.
State-Specific Child Abuse Training
Candidates must complete training or coursework in child abuse identification and reporting from a New York State-approved provider. They can be exempted if their practice does not include any contact with minors or handicapped adults living in residential care.
The Application Process
Candidates for initial licensure submit applications before all requirements have been met. Application forms are available on the site of the Office of the Professions (http://www.op.nysed.gov/prof/mhp/mhcforms.htm).
Educational documentation must be received directly from the issuing institution. The applicant must have the registrar fill out the educational verification form. If the program was registered as license qualifying within New York, additional educational documentation will not be required.
An applicant who has held out-of-state licensing must provide license verification. This is the case not only for mental health counseling licensees but for licensees in other professions recognized by the Education Department.
The application form includes an affidavit that requires notarization. The application/ initial licensure fee is $371. An applicant who needs a limited permit pays an additional $70. Candidates will mail their applications and fees to the New York State Education Department/ Office of the Professions in Albany.
When supervision is complete, the clinical supervisor will submit a verification form directly to the licensing agency. The supervisee will need to fill out the first part of the form.
Application status can be verified online. Applicants can also make inquiries using the contact information in the application packet. They are directed to provide date of birth and last four digits of their social security number in addition to the name of the profession for which licensure is sought.
Endorsement Candidates
In order to be eligible for licensure by endorsement, a counselor must have worked at least five years out of the preceding ten. The endorsement candidate will need to ask a professional colleague to certify the experience, using the certification form found in the application packet. The colleague will send the certification form directly to the New York licensing agency. The applicant will also submit an endorsement experience form identifying the colleagues(s) who will be providing certification.
An out-of-state counselor who is not eligible for endorsement may submit an application for initial licensure, demonstrating that all requirements have been met. A counselor who was licensed on the basis of requirements judged not substantially equivalent will also be required to provide documentation showing that standards were met on the level New York requires.
Additional Information
Contact information for the Mental Health Practitioners Unit is available online (http://www.op.nysed.gov/prof/mhp/mhpcontact.htm).
The New York Mental Health Counselors Association is an additional professional resource (http://www.nymhca.org).
Find Mental Health Counselor Licensure Requirements in Your State: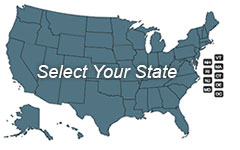 Learn about becoming a Mental Health Counselor in your state:
To View Full U.S. Map Click Here.