Mental Health Counselor Licensure in New Jersey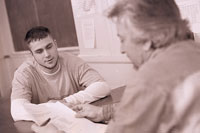 New Jersey mental health counselors are licensed as Licensed Professional Counselors, or LPCs. The license is generic in that it can be earned by counselors with different specialties. However, administrative code states that a counselor can also be issued a specialty certificate in clinical mental health counseling; one of the requirements is that the counselor be nationally certified.
Counselors do not advertise counseling specialty unless the New Jersey Professional Counselor Committee has determined that they meet requirements. A candidate will need a couple years of years of experience to reach this license/ certification level. An in-state candidate begins earning experience as a Licensed Associate Counselor (LAC).
<!- mfunc feat_school ->
Sponsored School(s)
Featured Programs:

Capella University Offers four CACREP- accredited master's programs online: MS in Clinical Mental Health Counseling, MS in School Counseling – Addiction Treatment and Recovery, MS in School Counseling – General School Counseling, MS in School Counseling – Child and Adolescent Counseling. Capella also offers a COAMFTE-accredited MS in Marriage and Family Therapy. Click here to contact Capella University and request information about their programs.

---

Pepperdine University Graduate School of Education and Psychology's Master of Arts in Clinical Psychology Licensed Professional Counselor track prepares a student to become a licensed professional counselor (LPC) in various states. Graduates will first pursue licensure as an associate professional clinical counselors (APCC). Click here to learn more about the Master of Arts in Clinical Psychology program at Pepperdine University.

---

Grand Canyon University

offers an M.S. in Clinical Mental Health Counseling with an Emphasis in Childhood and Adolescence Disorders; Christian Counseling; Marriage & Family Therapy and Trauma.

---

Arcadia University

offers an Online Graduate Certificate in Infant Toddler Mental Health.

Click here

to contact Arcadia University and request information about their programs.

---

Butler University

Positively Impact Lives with a Master's Degree in Counseling - Online Master of Science in Mental Health Counseling

---

Eastern Oregon University's

online MS in Clinical Mental Health Counseling program will help you learn to utilize complex critical thinking skills in the pursuit of fulfilling work in the industry of your choice.

---

Rivier University's

online Master of Arts in Clinical Mental Health Counseling degree program offers the framework and professional training needed to start a rewarding career as a licensed clinical mental health counselor.

---
<!- /mfunc feat_school ->
Select a New Jersey Mental Health Counselor Licensure Topic:
Educational Requirements
LPC/ LAC Requirements: A candidate will need to earn a master's or doctoral degree before seeking licensure at any level (https://www.njconsumeraffairs.gov/pc/Pages/regulations.aspx). The degree must be in counseling; it is to have the expressed purpose of educating professional counselors and should include the word "counselor" or "counseling" in the title. A program that is accredited by the Council for Accreditation of Counseling and Related Educational Programs (CACREP) will be accepted. Others programs can be accepted after review by the New Jersey Committee. A candidate whose program was not CAPREP-accredited or Committee can submit documentation that it meets coursework requirements.
The total program must be at least 60 semester hours. At least 45 are to be distributed among core areas. At least eight of the following must be covered:
The helping relationship
Counseling theory and practice
The counseling profession
Social and cultural foundations
Group dynamics/ counseling/ consulting/ processing
Human growth and development/ maladaptive behavior
Individual appraisal
Lifestyle and career development
Research and development
Clinical Mental Health Certification: A 60 semester program is to be completed in a mental health field.
Examination Requirements
In-state candidates take the National Counselors Examination (NCE) en route to LPC licensing. Those who seek specialty designation as clinical mental health counselors also take the National Clinical Mental Health Counseling Examination (NCMHCE) en route to certification.
The NCE is required for licensing at the associate level. Some students will have the opportunity to take the NCE during their final term. Otherwise, they are not to register until their application has been approved by the New Jersey Board (or the board of some state where they are seeking licensure). Once authorized, a New Jersey candidate will mail the registration form to the NBCC along with the $185 fee. The NBCC will confirm eligibility and send out scheduling details. This process may take four weeks. A candidate who wants to check registration status may email the NBCC at the address listed in the state insert; a link is found on the 'New Jersey' page of the NBCC site (http://www.nbcc.org/directory/NJ).
The NCE is administered via computer at AMP sites. Examinations are available in New Jersey in Robbinsville (greater Trenton area) and Wayne. Candidates are also permitted to schedule their examinations in other states. Examinations are generally available during the first two full weeks of the month.
Experience Requirements
A counselor who has education at the master's level will need a total of at least three years (4,500 hours) of supervised experience. Up to one year may be credited for practicums or internships completed as part of the master's degree program. At least two years must be competed post-degree.
An in-state candidate will accrue post-degree supervised hours while working as a Licensed Associate Counselor. Experience and supervision are to take place under a supervision plan. The plan may include up to 30 hours a week/ 125 hours a month of direct client contact. The supervisor must observe the associate, either live or through audiotape or videotape.
The LAC is to have 50 hours of face-to-face supervision per calendar year. The bulk of the supervision is to be individual or dyadic. No more than 10 are to take place in a group setting.
A candidate who has earned 30 semester hours beyond the master's level need only demonstrate 3,000 total hours of supervised experience to attain the LPC credential. If the candidate has enough qualifying pre-degree experience, this requirement can be met though as little as one year of post-master experience. However, a counselor seeking specialty certification in clinical mental health counseling must demonstrate 3,000 hours of post-master supervised clinical experience and 100 hours of post-master supervision.
The Application Process
LAC/ LPC Application: An in-state candidate will apply first at the LAC level. The licensing agency will require official transcripts of all graduate coursework.
Applications are available on the site of the New Jersey Division of Consumer Affairs (https://www.njconsumeraffairs.gov/pc/Pages/applications.aspx). The candidate will need to attach a two by two photograph and have the affidavit notarized. A $75 fee must be included.
Specialty Application: A candidate who will be applying for the specialty designation in mental health will mark the appropriate box on the application. The committee will then mail the application for the specialty designation.
Before the counselor can be recognized as a mental health counselor, he or she must go through the process for certification as a Certified Clinical Mental Health Counselor (CCMHC). A counselor who has obtained the requisite 3,000 hours of experience may initiate the process through the NBCC. Counselors seeking specialty certification will take the NCMHCE as part of the certification process. The examination is administered twice a year (http://www.nbcc.org/Certification/CertifiedClinicalMentalHealthCounselor).
Additional Information
Applicants and licensees may contact the New Jersey Professional Counselor Committee via email contact form (https://www.njconsumeraffairs.gov/pc/Pages/default.aspx).
The New Jersey Mental Health Counselors Association, a division of the New Jersey Counseling Association, serves as an additional resource for the state's professionals (http://www.njcounseling.org/index.php?option=com_content&view=article&id=562:new-jersey-mental-health-counselors-association&catid=102:nj-mental-health-counselors-assoc&Itemid=153).
Find Mental Health Counselor Licensure Requirements in Your State: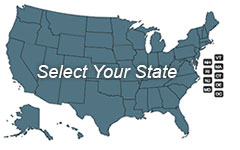 Learn about becoming a Mental Health Counselor in your state:
To View Full U.S. Map Click Here.