Mental Health Counselor Licensure in Nebraska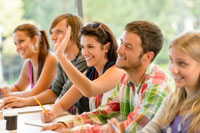 Nebraska has a multi-tiered licensing and certification system. The highest license that a mental health counselor can earn is 'Independent Mental Health Practitioner'. This license, unlike the "Mental Health Practitioner" license, allows for diagnosis of major mental illness; consultation is not necessary .
Mental health practitioner licenses are generic in the sense that they can be earned by social workers and marriage and family therapists as well as counselors; adjunct certification as a professional counselor lets the public know that one's training is in counseling.
<!- mfunc feat_school ->
Sponsored School(s)
Featured Programs:
Pepperdine University Graduate School of Education and Psychology's Master of Arts in Clinical Psychology Licensed Professional Counselor track prepares a student to become a licensed professional counselor (LPC) in various states. Graduates will first pursue licensure as an associate professional clinical counselors (APCC). Click here to learn more about the Master of Arts in Clinical Psychology program at Pepperdine University.

---

Grand Canyon University

offers an M.S. in Clinical Mental Health Counseling with an Emphasis in Childhood and Adolescence Disorders; Christian Counseling; Marriage & Family Therapy and Trauma.

---

Arcadia University

offers an Online Graduate Certificate in Infant Toddler Mental Health.

Click here

to contact Arcadia University and request information about their programs.

---

Butler University

Positively Impact Lives with a Master's Degree in Counseling - Online Master of Science in Mental Health Counseling

---

Eastern Oregon University's

online MS in Clinical Mental Health Counseling program will help you learn to utilize complex critical thinking skills in the pursuit of fulfilling work in the industry of your choice.

---

Rivier University's

online Master of Arts in Clinical Mental Health Counseling degree program offers the framework and professional training needed to start a rewarding career as a licensed clinical mental health counselor.

---
<!- /mfunc feat_school ->
Select a Nebraska Mental Health Practitioner Licensure Topic:
Educational Requirements
In most cases, an individual who seeks both independent mental health licensure and professional counselor certification will need to complete a program that is accredited by the Council for Accreditation of Counseling and Related Educational Programs (http://dhhs.ne.gov/licensure/Pages/Mental-Health-and-Social-Work-Practice.aspx). The Board can accept a program that achieves accreditation shortly afterward. The Board can also accept a program deemed equivalent. The program must be housed in a regionally accredited school.
The program must include coursework in eight content areas. Practicum and internship hours must together comprise at least 700; at least 280 hours are to be sent in direct service.
A counseling candidate who seeks independent licensing must demonstrate 60 semester hours of coursework.
An individual who completes a program that does not meet requirements can achieve the independent designation after a minimum ten years of experience under supervision.
Educational requirements for counselors below the LIMHP level are less stringent. The program will need to meet general requirements for mental health practice (as summarized in the application packet). An applicant could be licensed and certified despite missing some coursework typically included in CACREP-accredited programs or having completed fewer practicum hours.
Supervised Experience Requirements
In order to achieve the LIMHP credential, a professional must accrue 3,000 experience hours (http://dhhs.ne.gov/licensure/Pages/Mental-Health-and-Social-Work-Practice.aspx). Fully half of the required hours must be with individuals who have major mental illness or disorder (for example, major depressive disorder, bipolar disorder, panic disorder). The experience is to be supervised by an LIMPH, psychiatrist, or psychologist. The hours are to be achieved over a period of two to five years.
At least 1,500 hours are to be spent in direct client contact. Activities such as attending case conferences and reviewing client notes may be credited as non-direct hours.
While accruing experience, the graduate will hold licensure as a Provisionally Licensed Mental Health Practitioner (PLMHP). A professional who has already met requirements for the LMHP license may work under it to accrue experience hours for.the LIMHP.
A PLMHP who has a change in supervision will need to file paperwork with the Board.
Examination Requirements
The candidate must pass the National Counselor Examination (NCE) or National Clinical Mental Health Examination (NCMHCE). Both are under the banner of the National Board for Certified Counselors (NBCC).
Candidates will receive their registration materials from the Nebraska Board of Mental Health Practice; approval is required prior to registration. Individuals who are ready to test may download examination applications from the Board website. They must provide official transcripts that show degree conferral; the degree must qualify the graduate for licensure at at least the LMHP level.
Approved candidates will send their registration materials to the NBCC along with a $200 fee (http://www.nbcc.org/directory/NE). Candidates will wait several weeks for authorization. At this point, they will be allowed to schedule their examinations through Applied Measurement Professionals (AMP).
Computer-based examinations are available in Lincoln, North Platte, Omaha, Scottsbluff, and many other locations around the nation. Testing sessions are scheduled two weeks a month on weekdays and, in some locations, on Saturdays as well. Fee payment grants a six month window. The NBCC cautions that slots do fill.
The Nebraska Board will not receive results until four weeks after the close of the testing week. A candidate who needs to retest must submit another request to the Nebraska Board.
The Application Process
Application materials can be downloaded from the Department of Health and Human Services website (http://dhhs.ne.gov/licensure/Pages/Mental-Health-and-Social-Work-Practice.aspx).
Electronic transcripts can be accepted if they are sent directly from the school to the email address found in the application packet.
A candidate from a non-CACREP program must document equivalent course content. The internship director or supervisor must verify that the graduate supervised experience included the minimum hours. Equivalency review of non-CACREP programs may take 90 days.
Applicants must document citizenship or lawful presence. An applicant for licensure beyond the provisional level will need supervisor attestation. A supervisee who completed required hours under more than one supervisor will need attestation from each.
Applicants who have held prior licensing in health or environmental fields must provide verification of license status.
Fees are prorated depending on the stage of the renewal cycle.
Application materials are to be sent to the Licensure Unit in Lincoln. The Board notes that in most cases, a license can be issued within about two weeks. The process will take longer if there are circumstances that require Board review.
Out-of-State Mental Health Counselors
Out-of-state mental health practitioners must meet similar requirements, with one exception (http://dhhs.ne.gov/licensure/Pages/Mental-Health-and-Social-Work-Practice.aspx). Those who are currently licensed and have practiced actively in the current state of licensure for at least a year may be excused from providing evidence of having met supervised practice requirements. In order to be eligible through this pathway, they must demonstrate that at least one of the three preceding years was spent either in active practice or in a graduate training program or residency.
Candidates who apply based on reciprocity will need to supply a copy of the other state's statutes.
Additional Information
The Nebraska Board of Mental Health Practice is found online at: http://dhhs.ne.gov/licensure/Pages/Mental-Health-and-Social-Work-Practice.aspx. Licensure unit specialists can be reached at (402) 471-4905.
Mental Health Association of Nebraska: http://www.mha-ne.org/
Nebraska Counseling Association: http://www.necounseling.org/
Find Mental Health Counselor Licensure Requirements in Your State: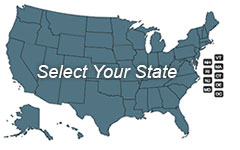 Learn about becoming a Mental Health Counselor in your state:
To View Full U.S. Map Click Here.