Mental Health Counselor License Requirements in Mississippi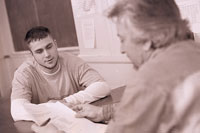 Mississippi's mental health counselors are known as Licensed Professional Counselors, or LPCs. Mississippi requires a graduate degree, a competency examination, and post-master practice in a clinical setting. Beginning in 2015, a mental health specialty counseling examination will be used for credentialing purposes.
<!- mfunc feat_school ->
Sponsored School(s)
Featured Programs:

Capella University Offers four CACREP- accredited master's programs online: MS in Clinical Mental Health Counseling, MS in School Counseling – Addiction Treatment and Recovery, MS in School Counseling – General School Counseling, MS in School Counseling – Child and Adolescent Counseling. Capella also offers a COAMFTE-accredited MS in Marriage and Family Therapy. Click here to contact Capella University and request information about their programs.

---

Pepperdine University Graduate School of Education and Psychology's Master of Arts in Clinical Psychology Licensed Professional Counselor track prepares a student to become a licensed professional counselor (LPC) in various states. Graduates will first pursue licensure as an associate professional clinical counselors (APCC). Click here to learn more about the Master of Arts in Clinical Psychology program at Pepperdine University.

---

Arcadia University

offers an Online Graduate Certificate in Infant Toddler Mental Health.

Click here

to contact Arcadia University and request information about their programs.

---

Butler University

Positively Impact Lives with a Master's Degree in Counseling - Online Master of Science in Mental Health Counseling

---

Eastern Oregon University's

online MS in Clinical Mental Health Counseling program will help you learn to utilize complex critical thinking skills in the pursuit of fulfilling work in the industry of your choice.

---

Rivier University's

online Master of Arts in Clinical Mental Health Counseling degree program offers the framework and professional training needed to start a rewarding career as a licensed clinical mental health counselor.

---
<!- /mfunc feat_school ->
Select a Mississippi Mental Health Counselor Licensure (LPC) Topic:
Educational Requirements
Counselors must have a master's, specialist, or doctoral level degree. Total program length must be at least 60 semester hours. However, the Board will allow candidates who completed degree programs of fewer semester hours to complete additional coursework post-degree; it will not be necessary to earn a second graduate degree.
The degree must be in counselor education or a related field. Mississippi defines this as a degree that includes coursework in required areas.
There is to be one three semester hour course in each of the following content areas:
Counseling theories/ skills or helping relationships
Human growth and development
Cross-cultural understanding or social and cultural foundations
Appraisal
Diagnosis and treatment
Groups
Marriage and/ or family counseling
Lifestyle and career development
Professional orientation
Research and evaluation
Diagnosis and treatment coursework should include the DSM and ICD—10-CM. A course verification form is found in the application packet. A more thorough description of expected course content is found in Board Rules and Regulations (https://www.lpc.ms.gov/wplpc/index.php/board/statutes-and-rules/).
Supervised Practice Requirements
In order to be licensed, one must have a total of 3,500 experience hours, earned after the completion of the bachelor's degree. A maximum of 1,750 hours may be credited for experience earned as part of a graduate program.
Direct counseling must account for at least 1,167 hours.
The trainee will need the equivalent of at least 100 hours of individual face-to-face supervision. Two hours of group supervision is considered the equivalent of one hour of individual supervision. The Board notes that group supervision may count for up to 50 hours of the 100 required hours (https://www.lpc.ms.gov/wplpc/).
Post-graduate directed experience must take place under a Board Qualified Supervisor. This is a Licensed Professional Counselor in good status who meets the Board's training and experience requirements and who has submitted the necessary documents.
Examination Requirements
Mississippi currently accepts either of two licensing examinations, the National Counselor Examination (NCE) or the National Mental Health Counseling Examination (NCMHCE). However, new regulations will make the NCMHCE the sole qualifying examination beginning July 1, 2015.
The NCMHCE is a specialty examination for mental health counselors. Both the NCMHCE and NCE are administered by the National Board for Certified Counselors (NBCC).
The Mississippi Board sends registration material to approved candidates. At this point, they may register with the NBCC by mailing a signed form and paying a $195 fee. They will again wait for conformation, this time from the NBCC. An email or postcard will signal when it is permissible to schedule an examination through Applied Measurement Professionals (AMP).
Candidates may test in Jackson, Mississippi or at an authorized AMP site in another state. The examination is computer-delivered. Fees are valid for six months. The exam is generally available during the first two weeks of a calendar month. Candidates are advised to schedule well in advance. State-specific information, as well as candidate handbooks, can be accessed from the 'Mississippi' page of the NBCC website (http://www.nbcc.org/directory/MS).
The Mississippi Board permits a candidate who fails a first attempt to register again without seeking authorization. It will be necessary to do so within one year of original approval; otherwise, the candidate will need to pay a re-application fee to the Mississippi Board. The minimum wait time (as per NBCC regulations) is three months.
Some applicants may have already taken a qualifying examination as part of a certification process or as part of the licensing process in another state. These candidates will need to have official score verification sent to the licensing agency.
The Application Process
Graduates complete a supervisory agreement and file it with the Board. The application is online, but the Board has provided a PDF of instructions (https://www.lpc.ms.gov/PDFs/Post-GradProcess.pdf).
Individuals apply for licensure candidacy when they have met all requirements except examination. They will need to attest to having read the applicable statute, rules, and regulations.
New applicants pay a $100 fee.
Official graduate transcripts may be included in the application package or, if necessary, sent directly by the issuing institution. The Mississippi Board asks that application packages that do not include transcripts include verification from the registrar that a transcript will be arriving.
Supervisor verification forms are to be included in signed, sealed envelopes. In cases where a supervisor is deceased or cannot be located, the applicant will submit a notarized oath.
The application includes multiple materials that require notarization; a passport-style color photograph is to be attached to the application prior to notarization.
The application packet also includes a release form that is sent to the Department of Public Safety for a background check.
Application forms are available on the Board website (https://www.lpc.ms.gov/wplpc/). It is possible to apply for LPC online. However, the Board suggests that applicants first print out a paper copy.
Applicants may wish to stay apprised of quarterly Board meeting dates (https://www.lpc.ms.gov/wplpc/index.php/board/meetings/). In order for materials to be reviewed at a particular meeting, they must arrive at least ten business days prior. Incomplete application packets cannot be reviewed.
Applicants are advised to submit their application packets via return receipt
Out-of-State Counselors
The Mississippi Board can accept requirements met in other jurisdiction if they "substantially meet" Mississippi requirements.
The license verification form elicits information from the state of licensure.
Additional Information
The Mississippi Board of Examiners for Licensed Professional Counselors (https://www.lpc.ms.gov) can be reached at 601 359-1010.
Find Mental Health Counselor Licensure Requirements in Your State: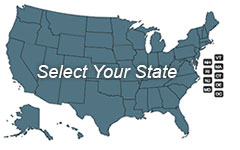 Learn about becoming a Mental Health Counselor in your state:
To View Full U.S. Map Click Here.