Mental Health Counselor License Requirements in Maryland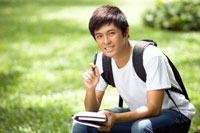 Maryland mental health counselors are licensed as LCPCs. They are referred to as 'Clinical Professional Counselors', or simply 'Professional Counselors'. Licensure is based on education, examination, and supervised practice. In-state counselors complete post-graduate supervised practice as LGPCs (Licensed Graduate Professional Counselors).
<!- mfunc feat_school ->
Sponsored School(s)
Featured Programs:

Capella University Offers four CACREP- accredited master's programs online: MS in Clinical Mental Health Counseling, MS in School Counseling – Addiction Treatment and Recovery, MS in School Counseling – General School Counseling, MS in School Counseling – Child and Adolescent Counseling. Capella also offers a COAMFTE-accredited MS in Marriage and Family Therapy. Click here to contact Capella University and request information about their programs.

---

Pepperdine University Graduate School of Education and Psychology's Master of Arts in Clinical Psychology Licensed Professional Counselor track prepares a student to become a licensed professional counselor (LPC) in various states. Graduates will first pursue licensure as an associate professional clinical counselors (APCC). Click here to learn more about the Master of Arts in Clinical Psychology program at Pepperdine University.

---

Grand Canyon University

offers an M.S. in Clinical Mental Health Counseling with an Emphasis in Childhood and Adolescence Disorders; Christian Counseling; Marriage & Family Therapy and Trauma.

---

Arcadia University

offers an Online Graduate Certificate in Infant Toddler Mental Health.

Click here

to contact Arcadia University and request information about their programs.

---

Butler University

Positively Impact Lives with a Master's Degree in Counseling - Online Master of Science in Mental Health Counseling

---

Eastern Oregon University's

online MS in Clinical Mental Health Counseling program will help you learn to utilize complex critical thinking skills in the pursuit of fulfilling work in the industry of your choice.

---

Rivier University's

online Master of Arts in Clinical Mental Health Counseling degree program offers the framework and professional training needed to start a rewarding career as a licensed clinical mental health counselor.

---
<!- /mfunc feat_school ->
Select a Maryland Mental Health Counselor Licensure Topic:
Educational Requirements
Licensure is dependent on completing a master's or doctoral degree in counseling or a related field. Minimum program length is 60 semester hour or 90 quarter hours. The program must include content in the following Board-mandated areas:
Human growth and development
Counseling theory
Counseling techniques
Social and cultural foundations of counseling
Lifestyle and career development
Group, dynamics, processing and counseling
Appraisal of individuals
Research and evaluation
Professional, legal and ethical Responsibilities
Diagnosis and psychopathology
Psychotherapy and treatment of mental emotional disorders
Marriage and family therapy
Alcohol and drug Counseling
Supervised field experience
Required courses may be three semester hours or five quarter hours. Courses may go by different names. The Board has provided a PDF that outlines course content and includes common course titles (http://dhmh.maryland.gov/bopc/pdfs/educationalrequirementinformationLCPCandLCPC.pdf).
Prospective applicants who are unsure if they meet Maryland's educational requirements may pay $25 to have their coursework pre-evaluated. An unofficial transcript is acceptable at this stage. However, the graduate will need to provide course descriptions for all courses where the title does not match what's listed in the application materials.
The Board notes that individuals whose master's degree programs include fewer than 60 semester hours can meet licensing standards by completing additional coursework (https://health.maryland.gov/bopc/Pages/faqs.aspx).
A candidate who seeks licensure based on a doctoral degree must have at least 90 semester hours. 135 quarter hours is accepted as the equivalent.
Examination Requirements
Maryland requires national and state examinations; in-state candidates take them before they complete their supervised practice. The National Counselor Examination (NCE) covers core counseling concepts. Some students take the NCE during their final quarter or semester as graduate students. Those who do not complete the requirement at the graduate level will have the Maryland Board review their education as part of the application process. After receiving notification of eligibility, they will register with the National Board for Certified Counselors (NBCC).
Examination registration entails a $195 fee, paid directly to the NBCC. It may take four weeks from the date of fee clearance for the candidate to receive authorization to schedule an examination. Examinations are computer-delivered and are available two weeks a month at AMP (www.goAMP.com) testing sites. The examination is available in Maryland in Randallstown and in the greater Baltimore area; candidates can also schedule their examinations in other jurisdictions. A link to the examination handbook, and to state-specific examination information, can be found on the 'Maryland' page of the NBCC website (http://www.nbcc.org/directory/MD). The NBCC can be contacted at 336-217-4111.
The Maryland Law Test is administered twice a month at the Board office.
Supervised Practice Requirements
Counselors who hold a master's as their highest degree are required to complete three years of supervised practice and accrue 3,000 hours. Those with doctoral degrees are required to complete two years and accrue 2,000 hours (https://health.maryland.gov/bopc/Pages/pc.aspx). Applicants at either level may credit up to 1,000 hours earned prior to the degree.
At least half of the required clinical experience is to be under the supervision of an LCPC (http://dhmh.maryland.gov/bopc/pdfs/LGPCSupervisionRequirementsRegulations.pdf). The remainder may be supervised by another qualified mental health provider.
A list of approved LCPC supervisors can be downloaded from the Board website (https://health.maryland.gov/bopc/Pages/pc.aspx). The list includes contact information for many professionals, some of whom are located in the District of Columbia or in neighboring states.
The LGPC will work under a supervision contract. A master's level candidate will need 100 hours of post-master supervision. At least 50 must be individual. At least 1,500 of the required 3,000 hours must consist of face-to-face client contact.
The Application Process
In-state candidates apply first for a Licensed Graduate Professional Counselor (LGPC) credential; this allows them to complete post-degree supervised practice hours.
Applicants must document that their coursework met Board requirements. If course titles do not match those listed in application materials, additional documentation will be required.
Transcripts should be included in the application package in their original sealed envelopes.
The LGPC application costs $75.
The LGPC license is issued for only two years but may be renewed; graduate counselors are directed to request renewal two months before license expiration date. They will need to document continuing education and pay a $200 fee; they will also need to ensure that they don't have unpaid state taxes.
LGPCs will fill out transfer applications when they are ready to upgrade. The application fee will again be $75.
The counselor will need three references. References may come from professional counselors or from other mental health providers. At least one must come from a post-graduate clinical supervisor.
Application materials are available online (https://health.maryland.gov/bopc/Pages/forms.aspx). They require notarization. The completed application package is to be mailed to the Board office in Baltimore.
Criminal background checks are now required. The Board will mail information.
Out-of-State Candidates
Licensing policies are modified for counselors who have licenses in good standing in other states. Such counselors may be licensed on the basis of graduate programs of less than 60 semester hours provided they have been licensed at the appropriate level for at least three years and have accrued 3,000 hours of experience (https://health.maryland.gov/bopc/Pages/pc.aspx).
The Maryland Board will not require endorsement candidates to document all coursework required of standard applicants. However, they must document coursework in the following areas: 1) psychopathology and diagnosis 2) psychotherapy and treatment and 3) professional/ legal/ ethical responsibilities. The Board may accept registration with the National Credentials Registry (NCR) of the American Association of State Counseling Boards (AASCB) in lieu of transcripts.
Either the NCE or National Clinical Mental Health Counselors Examination (NCMHCE) will be accepted.
Out-of-state licensure forms are available in Word format on the Board website (https://health.maryland.gov/bopc/Pages/pc.aspx).
Additional Information
The Maryland Board of Counselors and Therapists (https://health.maryland.gov/bopc/Pages/index.aspx) can be reached at 410-764-4732.
The Licensed Clinical Professional Counselors of Maryland (formerly known as the Maryland Mental Health Counselors Association) is an additional professional resource (http://lcpcm.org). The organization does not license professionals but does provide resources about state and federal practice issues, including TRICARE.
Find Mental Health Counselor Licensure Requirements in Your State: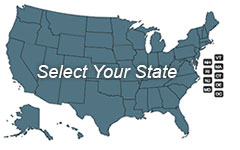 Learn about becoming a Mental Health Counselor in your state:
To View Full U.S. Map Click Here.