Mental Health Counselor Licensure in Louisiana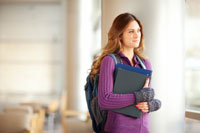 Louisiana mental health counselors are licensed as Licensed Professional Counselors. According to state code, the LPC license grants one the privilege of using the professional title and of practicing mental health counseling.
Licensure is based on education, examination, and supervised post-graduate practice. In-state candidates begin their careers as counselor interns.
Candidates should be aware that requirements will become more stringent in 2015.
<!- mfunc feat_school ->
Sponsored School(s)
Featured Programs:

Capella University Offers four CACREP- accredited master's programs online: MS in Clinical Mental Health Counseling, MS in School Counseling – Addiction Treatment and Recovery, MS in School Counseling – General School Counseling, MS in School Counseling – Child and Adolescent Counseling. Capella also offers a COAMFTE-accredited MS in Marriage and Family Therapy. Click here to contact Capella University and request information about their programs.

---

Pepperdine University Graduate School of Education and Psychology's Master of Arts in Clinical Psychology Licensed Professional Counselor track prepares a student to become a licensed professional counselor (LPC) in various states. Graduates will first pursue licensure as an associate professional clinical counselors (APCC). Click here to learn more about the Master of Arts in Clinical Psychology program at Pepperdine University.

---

Grand Canyon University

offers an M.S. in Clinical Mental Health Counseling with an Emphasis in Childhood and Adolescence Disorders; Christian Counseling; Marriage & Family Therapy and Trauma.

---

Arcadia University

offers an Online Graduate Certificate in Infant Toddler Mental Health.

Click here

to contact Arcadia University and request information about their programs.

---

Butler University

Positively Impact Lives with a Master's Degree in Counseling - Online Master of Science in Mental Health Counseling

---

Eastern Oregon University's

online MS in Clinical Mental Health Counseling program will help you learn to utilize complex critical thinking skills in the pursuit of fulfilling work in the industry of your choice.

---

Rivier University's

online Master of Arts in Clinical Mental Health Counseling degree program offers the framework and professional training needed to start a rewarding career as a licensed clinical mental health counselor.

---
<!- /mfunc feat_school ->
Select a Louisiana Mental Health Counselor Licensure Topic:
Educational Requirements
In order to be licensed at the intern or professional level under current regulations, one must complete a graduate program of at least 48 semester hours; the program must teach mental health counseling. State educational requirements are not intended to encompass programs that were designed to train people to work in other professional disciplines (with the exception of rehabilitation counseling and counseling psychology).
The program must include at least one course in each of eight board-mandated content areas:
Personality theories/ counseling
Human growth and development
Abnormal behavior
Counseling techniques
Group processes and dynamics/ group counseling
Individual appraisal
Career and lifestyle development
Ethics
The student must have a counseling/ psychotherapy practicum of at least 100 hours and an internship of at least 300 hours. The practicum is to include 40 hours of direct service provision. The internship is to include 120 hours of direct service provision. Both are to include an hour a week of individual supervision, and one-and-one-half hours a week of group supervision.
The semester hour requirement increases to 60 semester hours September 1, 2015. The mandate applies to candidates whose education has not already been approved. Individuals whose degree programs do not include the minimum semester hours are allowed to take additional coursework post-master. Details are found in Louisiana Administrative Code 703 (http://lpcboard.org/46v60%20LR%20Updated%20July%202013.pdf).
Examination Requirement
Louisiana will accept either the National Counselor Examination or the National Clinical Mental Health Counseling Examination for licensure purposes. Both are under the banner of the National Board for Certified Counselors.
Examination is not required for intern registration. However, some students have the opportunity to take the NCE during their final term. The NCMHCE is attempted later. (Candidates who seek adjunct national certification as mental health counselors will eventually need to pass the NCMHCE examination.
Individuals who have taken a qualifying prior to application must ensure that a score report is sent directly to the Louisiana Board. Candidates who need to test may download registration forms from the Board website or from the "Louisiana" page of the NBCC website (http://www.nbcc.org/directory/LA ). Louisiana candidates submit registration directly to the NBCC.
The NBCC will require official transcripts. The examination fee is $195. The NBCC notes that it can take four weeks from the time the time the fee clears for a candidate to receive an invitation to schedule. Candidates can address their questions to the NBCC at 336-482-2856.
Examinations are administered via computer at AMP sites around the nation. There are three Louisiana testing sites: in Baton Rouge, Shreveport, and greater New Orleans.
Counselor Intern Application Process
Candidates must apply to the Board for permission to begin supervised practice. They may initiate the Counselor Intern process as soon as educational requirements have been met. Application materials are available on the Board site (http://www.lpcboard.org/LPC%20registration_of_supervisors_for_CI.htm). The application has three parts which may be submitted together or serially. The first part documents education; the second, supervision; the third, work setting.
The candidate will prepare a "Declaration of Practices and Procedures" form. This provides clients with information such as qualifications, counseling approach, and limits to confidentiality. A sample CI declaration is available in the 'applications' section of the Board website.
Experience Requirements
The intern must accrue 3,000 hours of experience; at least 1,900 are to be spent in direct counseling or psychotherapy service (http://lpcboard.org/46v60%20LR%20Updated%20July%202013.pdf).
A candidate who has completed graduate education beyond the master's level can substitute it for some required hours; 30 semester hours are credited as 500 hours of indirect service.
The intern will need 100 hours of clinical supervision by a board-approved supervisor. At least 50 hours must be individual supervision. It is acceptable to have more than one supervisor. The supervisor(s) will rate the intern's performance in areas like communication skills and ability to form therapeutic alliance with clients.
The intern will remain under supervision until an LPC license has been issued (http://www.lpcboard.org/LPC%20FAQs%20as%20of%20April%202013.pdf).
The LPC Application Process
The prospective counselor must go through the application process again at the LPC level. Application materials are available for download from the Board website (http://lpcboard.org/LPC%20Instructions%20Forms.htm).
The application packet includes an affidavit that must be notarized. The intern will need to make revisions to the declaration statement. Supervisor verification is also required at this stage.
The applicant will need to include a two by two signed photograph. The application must be accompanied by a $200 fee. Candidates should have their materials in at least seven days in advance of the meeting in which they would like their materials reviewed (http://lpcboard.org/board_meeting_dates_minutes_2014.htm). The Board advises applicants that meeting dates are subject to change.
The Board does allow applicants to pay an additional $50 for expedited processing (http://www.lpcboard.org/expedited.htm). Candidates who opt for expedited processing do not need to be mindful of application deadlines. In many cases, the application can be reviewed and the license issued within five business days. However, if there are concerns that will necessitate Board review (and possible denial) the process will take longer. Failure to submit all required materials will also result in delay.
Out-of-State Counselors
Out-of-state counselors are directed to have their licensing files sent to the Louisiana Board (http://lpcboard.org/LPC%20Endorsement%20App%2011%202013.pdf). Those who have been licensed for at least five years and can document five years of active practice are not required to meet Louisiana's education and supervised practice requirements. They must provide evidence that they have passed one of the two accepted examinations. Typically this information is included in the license file. If it is not, it can be requested from the NBCC. Active practice may be verified by a supervisor or colleague.
Additional Information
The Louisiana Licensed Professional Counselors Board of Examiners (http://www.lpcboard.org/) can be reached at 225-765-2515. The Board cannot pre-approve qualifications; applicants are advised to read the licensing rules, which are available on the website. The Board office is open between 8:30 and 4:30 on weekdays.
The Louisiana Mental Health Counselors Association is an additional professional resource (http://www.lacounseling.org/lca/LMHCA.asp).
Find Mental Health Counselor Licensure Requirements in Your State: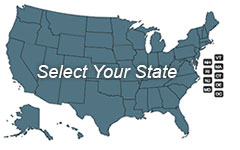 Learn about becoming a Mental Health Counselor in your state:
To View Full U.S. Map Click Here.