Mental Health Counselor Licensure in Kentucky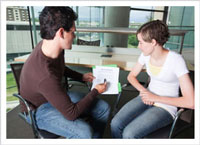 Kentucky mental health counselors are licensed as Licensed Professional Clinical Counselors. This license is mandatory for those who practice mental health counseling, but not for those who practice vocational, rehabilitation, or school counseling.
<!- mfunc feat_school ->
Sponsored School(s)
Featured Programs:

Capella University Offers four CACREP- accredited master's programs online: MS in Clinical Mental Health Counseling, MS in School Counseling – Addiction Treatment and Recovery, MS in School Counseling – General School Counseling, MS in School Counseling – Child and Adolescent Counseling. Capella also offers a COAMFTE-accredited MS in Marriage and Family Therapy. Click here to contact Capella University and request information about their programs.

---

Pepperdine University Graduate School of Education and Psychology's Master of Arts in Clinical Psychology Licensed Professional Counselor track prepares a student to become a licensed professional counselor (LPC) in various states. Graduates will first pursue licensure as an associate professional clinical counselors (APCC). Click here to learn more about the Master of Arts in Clinical Psychology program at Pepperdine University.

---

Grand Canyon University

offers an M.S. in Clinical Mental Health Counseling with an Emphasis in Childhood and Adolescence Disorders; Christian Counseling; Marriage & Family Therapy and Trauma.

---

Arcadia University

offers an Online Graduate Certificate in Infant Toddler Mental Health.

Click here

to contact Arcadia University and request information about their programs.

---

Butler University

Positively Impact Lives with a Master's Degree in Counseling - Online Master of Science in Mental Health Counseling

---

Eastern Oregon University's

online MS in Clinical Mental Health Counseling program will help you learn to utilize complex critical thinking skills in the pursuit of fulfilling work in the industry of your choice.

---

Rivier University's

online Master of Arts in Clinical Mental Health Counseling degree program offers the framework and professional training needed to start a rewarding career as a licensed clinical mental health counselor.

---
<!- /mfunc feat_school ->
Select a Kentucky Mental Health Counselor Licensure Topic:
Educational Requirements
In order to be licensed as an LPCC, one must earn a graduate degree in counseling or a related field. The degree may be master's, doctoral, or specialist level. In order to qualify as being in a related field, it must include an acceptable professional orientation course and 600 hours of practicum or internship in a counseling program that has counseling faculty. There must be coursework in at least seven of nine state-mandated content areas. The Board notes that degrees in fields like social work, special education, and clinical psychology are not considered related.
A professional who seeks licensure on the basis of a counseling-related degree will need to take any required courses that were not included in the degree program post-degree. Kentucky requires the following courses:
Human growth and development
Mental and emotional disorders/ dysfunctional behavior
The helping relationship
Professional orientation and ethics
Individual assessment, appraisal, and testing
Social and cultural foundations
Career and lifestyle development
Group process and dynamics/ group counseling and consulting
Research and evaluation
Coursework in mental disorders covers diagnosis, prevention, and treatment planning as well as etiology.
All coursework is to be completed through regionally accredited institutions.
Supervised Practice Requirements
An associate must accrue 4,000 hours of postmaster counseling experience under supervision. The experience must include at least 1,600 hours of direct counseling. Supervisees are to have broad experience which includes supporting people with various developmental issues and diagnoses (https://apps.legislature.ky.gov/law/kar/201/036/060.pdf).
The supervisee must have 100 hours of individual supervision. The clinical supervisor must be a credentialed mental health professional who has received Board approval. The professional may be licensed as a professional clinical counselor, clinical social worker, psychiatrist, psychologist, psychological practitioner, or marriage and family therapist. Supervision by a master's level nurse is acceptable, provided the nurse has psychological certification. Supervision by a certified psychologist is acceptable, provided the psychologist has autonomous credentialing. Whatever the primary credential, the professional must have two years of post-licensure experience and must have completed Board-mandated training in supervision. A current list of approved supervisors is available on the Board website (https://oop.ky.gov/lpccsup.aspx).
Individuals who are accruing their experience within Kentucky must have a supervisory agreement on file with the Board. The supervisory agreement describes the client population, treatment modalities, and problems treated as well as the supervision itself.
Some supervision may take place through the use of electronic means that allow for simultaneous audio and video. However, the Board requires supervisor and supervisee to meet together at some physical location at least once per month.
In unforeseen circumstances (for example, when a supervisor is seriously ill or takes a leave of absence), the supervisee may temporarily continue under the supervision of a mental health professional who is not board-approved. The Board does, however, require prompt notification (https://apps.legislature.ky.gov/law/kar/201/036/060.pdf).
An individual who accrues experience in another state but then seeks licensure in Kentucky will need to verify that supervision and licensing/certification standards were similar and that the supervisor was in good standing.
Supervisees are encouraged to provide at least ten hours of direct service in a correctional setting.
The Examination Process
The Board will accept either the National Counselor Examination for Licensure and Certification (NCE) or the National Clinical Mental Health Counseling Examination (NCMHCE). Students often have the opportunity to take the NCE during their last semester or quarter. NCMHCE eligibility comes later. Candidates who seek national certification as mental counselors as a complement to their state counseling licenses will need to eventually pass the NCMHCE. The process does not have to be completed before licensure.
Registration materials are posted on the Board website under resources. Resources for both examinations are available on the 'Kentucky' page of the NBCC site. Candidates will send registration materials, accompanied by official transcripts and a $195 fee. They can expect confirmation of eligibility approximately a month later. At this point, they can visit AMP on the web (www.goAMP.com) or call 888-519-9901 to schedule an examination.
Kentucky has two participating AMP sites: in Lexington and Louisville. Candidates may schedule at testing sites in other states. Examinations are administered between 9:00 and 1:30 on weekdays during monthly testing windows; some sites also administer them on Saturdays.
A candidate who fails an examination attempt must wait three months before re-examination.
The Application Process
Candidates apply for Licensed Professional Counselor Associate after competing educational requirements. Official transcripts may be requested directly from the source or included in the application package in original sealed envelopes. Candidates applying on the basis of related degrees must also provide course descriptions or syllabi.
A candidate will need a supervisor before the LCPA is issued. However, the Board may review initial materials and provide a letter of eligibility beforehand.
Supervised experience is verified at the LPCC level. The supervisor must complete and sign a form.
LPCA application carries a $50 fee. LPCC application carries a $150 fee.
Application materials are available on the Board website (https://lpc.ky.gov/newstatic_Info.aspx?static_ID=458&menuid=136). The Board meets on a monthly basis. Applications that do not arrive ten days in advance will wait until the following meeting.
Reciprocity
Reciprocity is extended to counselors who meet requirements of Kentucky State Statute 335.527 (https://lpc.ky.gov/newstatic_Info.aspx?static_ID=474&menuid=137). Reciprocity candidates must have current licenses in good standing, have five years of experience, and have completed graduate degrees with 60 total semester hours; programs must include coursework in nine required areas. The minimum internship/ practicum requirement is 400 hours (http://lpc.ky.gov/Form%20Library/Reciprocity%20Information%20Sheet.pdf). Candidates who meet reciprocity requirements do not need to document supervised practice or examination. The application fee is $150; $125 can be refunded if the candidate is found ineligible for licensure.
Out-of-state candidates with less than five years of experience must document supervised experience and examination results.
Additional Information
The Kentucky Board of Licensed Professional Counselors can be reached at 502-564-3296. Additional contact information is found on the Board site (http://lpc.ky.gov/Pages/contactinformation.aspx) and for the actual detailed licensure information (https://lpc.ky.gov/newstatic_Info.aspx?static_ID=474&menuid=137).
The Kentucky Mental Health Counselors Association is a state professional organization (https://sites.google.com/a/kmhca.net/kmhca). It does not issue licenses.
Find Mental Health Counselor Licensure Requirements in Your State: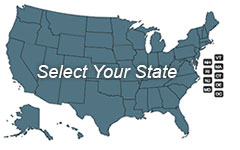 Learn about becoming a Mental Health Counselor in your state:
To View Full U.S. Map Click Here.