Mental Health Counselor Licensure in Kansas
Clinical Professional Counselors LCPC is one of two counseling licenses issued by the Behavioral Sciences Regulatory Board. Candidates who seek this license begin their post-graduate practice as Licensed Professional Counselors; the Kansas Board places no limit on the length of time a counselor takes to achieve qualifying clinical experience.
<!- mfunc feat_school ->
Sponsored School(s)
Featured Programs:

Capella University Offers four CACREP- accredited master's programs online: MS in Clinical Mental Health Counseling, MS in School Counseling – Addiction Treatment and Recovery, MS in School Counseling – General School Counseling, MS in School Counseling – Child and Adolescent Counseling. Capella also offers a COAMFTE-accredited MS in Marriage and Family Therapy. Click here to contact Capella University and request information about their programs.

---

Pepperdine University Graduate School of Education and Psychology's Master of Arts in Clinical Psychology Licensed Professional Counselor track prepares a student to become a licensed professional counselor (LPC) in various states. Graduates will first pursue licensure as an associate professional clinical counselors (APCC). Click here to learn more about the Master of Arts in Clinical Psychology program at Pepperdine University.

---

Grand Canyon University

offers an M.S. in Clinical Mental Health Counseling with an Emphasis in Childhood and Adolescence Disorders; Christian Counseling; Marriage & Family Therapy and Trauma.

---

Arcadia University

offers an Online Graduate Certificate in Infant Toddler Mental Health.

Click here

to contact Arcadia University and request information about their programs.

---

Butler University

Positively Impact Lives with a Master's Degree in Counseling - Online Master of Science in Mental Health Counseling

---

Eastern Oregon University's

online MS in Clinical Mental Health Counseling program will help you learn to utilize complex critical thinking skills in the pursuit of fulfilling work in the industry of your choice.

---

Rivier University's

online Master of Arts in Clinical Mental Health Counseling degree program offers the framework and professional training needed to start a rewarding career as a licensed clinical mental health counselor.

---
<!- /mfunc feat_school ->
Select a Kansas Mental Health Counselor Licensure Topic:
Educational Requirements
A student will need 60 semester hours of graduate credit to be licensed as a professional counselor in Kansas. This must include a degree at the master's level or higher.
An LCPC program must meet state-adopted standards (http://www.ksbsrb.org/pdf/statutes_regs/102-3-3a.pdf). Coursework requirements for the LPC and LCPC license are similar, except that the LCPC candidate must have 15 semester hours that support mental disorder diagnosis or treatment.
The following coursework is required of counselors at either level:
The helping relationship
Counseling theories and practice
Human growth and development
Social and cultural foundations
Group dynamics, processes, and counseling
Individual appraisal
Career development and lifestyle
Research and evaluation
Professional orientation
Supervised experience
The above courses may not be taken as independent study. However, thesis work may be credited toward the "research and evaluation" requirement; a maximum of four semester hours is creditable. The student will need a total of 45 semester hours distributed across the ten content areas, with a minimum of two semester hours in each.
Coursework that is credited as meeting general counseling content requirements may also be credited as meeting the "15 semester hour requirement" Additionally, some independent study and/ or thesis may be credited toward this mandate. However, the thesis work may not be simultaneously credited as meeting the "research and evaluation" and "mental disorder" requirements (https://ksbsrb.ks.gov/professions/professional-counselors).
Supervised Experience Requirements
In order to obtain the LCPC, the LPC will need at least 4,000 hours of supervised professional experience. This will include 1,500 hours of face-to-face psychotherapy and assessment (https://ksbsrb.ks.gov/professions/professional-counselors).
An LPC with education below the doctoral level must have at least 100 hours of supervision (https://ksbsrb.ks.gov/professions/professional-counselors). At least 50 hours must be individual. An LPC with a doctoral degree will need at least 50 hours of supervision, at least 25 individual. Supervision is to be provided in at least two separate sessions each month, regardless of supervisee degree level; at least one monthly session is to be individual.
Supervision is to be provided by a Licensed Clinical Professional Counselor who has at least two years of post-licensure experience. In cases where LCPC supervision is not possible, supervision may be provided by another experienced mental health professional. In Kansas, a professional may qualify on the basis of licensure as a psychologist, clinical marriage and family therapist, clinical psychotherapist, or clinical social worker. The training plan includes questions about supervisor qualifications as they relate to the individual supervisee's job role.
An LPC who is in training for the clinical license will work under a clinical training supervision plan on file with the Board. The LPC cannot begin accruing hours until approval has been granted.
Examination Requirements
A candidate will take two examinations before achieving licensure at the LCPC level. The National Counselor Examination (NCE) must be passed prior to LPC licensure, though a temporary may be issued pending examination. The National Clinical Mental Health Counselor Examination (NCMHCE) must be passed prior to LCPC licensure.
In both instances, candidates initiate the process by submitting application materials to the Kansas Board. The Board will provide registration materials to approved candidates. At this point, candidates may register with the National Board for Certified Counselors (NBCC). They will need to remit a $195 fee. Fee payment grants a six-month eligibility window. There are monthly testing windows, but the NBCC does advise that slots may fill.
Candidates who have received confirmation through NBCC schedule computerized examinations through AMP. In Kansas, examinations are administered in Olathe and Wichita. However, an approved candidate may opt to schedule in another jurisdiction.
Candidates can find links to examination handbooks on the "Kansas" page of the NBCC website (http://www.nbcc.org/directory/KS). Additional study resources are available through the NBCC site (http://www.nbcc.org/study).
In some cases, candidates will have taken the required examination(s) before application. Verification may be obtained from the NBCC or from another state board; applicants are to follow submission instructions found in the application packet.
The Application Process
In-state candidates will apply twice: at the LPC level and again at the LCPC level. Forms may be downloaded from the Board website or requested in writing (https://ksbsrb.ks.gov/professions/professional-counselors). Candidates must sign that they have read the regulations regarding licensure before submitting their applications.
Official transcripts are to be submitted at first application; they are to be sent directly by the issuing university. A first-time applicant will also need three references included in signed, sealed envelopes; one is to come from the on-site internship or practicum director. All references are to come from professionals who are licensed in counseling or fields related to counseling and who can address the applicant's competence as a counselor. There is one exception to the requirement that references be licensed: When the applicant's practicum or internship supervisor is not available to complete the required reference, the director or other knowledgeable individual can complete it in their stead.
Candidates who hold Kansas licensing at the LPC level must submit a new application accompanied by the appropriate fee. Supervision verification is due at this time.
There is a $100 application fee at both levels. The fee for temporary licensure is $150. Candidates who have held behavioral health licenses in any state are required to provide clearance forms.
The review process may take 30 days. Candidates can check their status online.
A candidate who answers "yes" to questions that have bearing on public trust (for example, legal history, disciplinary history, or substance abuse) may be asked to make a personal appearance before the Board.
Out-of-State Candidates
In addition to meeting general reciprocity requirements, a counselor who seeks reciprocal licensing at the LCPC level must demonstrate competency in diagnosing and treating mental disorders.
General reciprocity can be extended in either of two circumstances: 1) when a counselor can demonstrate substantively similar licensing requirements or 2) when a counselor can demonstrate continuous licensure and at least minimal professional practice over the preceding five-year-period. A counselor who has practiced at least 15 hours a week for at least nine months during each of the five year meets standards for minimal professional practice.
Additional Information
The Kansas Behavioral Sciences Regulatory Board is the best source for current information about licensure of mental health counselors (https://ksbsrb.ks.gov/professions/professional-counselors).
Find Mental Health Counselor Licensure Requirements in Your State: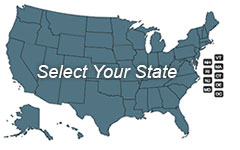 Learn about becoming a Mental Health Counselor in your state:
To View Full U.S. Map Click Here.