Mental Health Counselor Licensure in Iowa
Iowa's Licensed Mental Health Counselors(LMHCs) are credentialed and regulated by the Board of Behavioral Science. Licensure is granted on the basis of graduate education in mental health counseling, postgraduate supervised practice, and successful performance on a qualifying national examination.
<!- mfunc feat_school ->
Sponsored School(s)
Featured Programs:

Capella University Offers four CACREP- accredited master's programs online: MS in Clinical Mental Health Counseling, MS in School Counseling – Addiction Treatment and Recovery, MS in School Counseling – General School Counseling, MS in School Counseling – Child and Adolescent Counseling. Capella also offers a COAMFTE-accredited MS in Marriage and Family Therapy. Click here to contact Capella University and request information about their programs.

---

Pepperdine University Graduate School of Education and Psychology's Master of Arts in Clinical Psychology Licensed Professional Counselor track prepares a student to become a licensed professional counselor (LPC) in various states. Graduates will first pursue licensure as an associate professional clinical counselors (APCC). Click here to learn more about the Master of Arts in Clinical Psychology program at Pepperdine University.

---

Grand Canyon University

offers an M.S. in Clinical Mental Health Counseling with an Emphasis in Childhood and Adolescence Disorders; Christian Counseling; Marriage & Family Therapy and Trauma.

---

Arcadia University

offers an Online Graduate Certificate in Infant Toddler Mental Health.

Click here

to contact Arcadia University and request information about their programs.

---

Butler University

Positively Impact Lives with a Master's Degree in Counseling - Online Master of Science in Mental Health Counseling

---

Eastern Oregon University's

online MS in Clinical Mental Health Counseling program will help you learn to utilize complex critical thinking skills in the pursuit of fulfilling work in the industry of your choice.

---

Rivier University's

online Master of Arts in Clinical Mental Health Counseling degree program offers the framework and professional training needed to start a rewarding career as a licensed clinical mental health counselor.

---
<!- /mfunc feat_school ->
Select an Iowa Mental Health Counselor Licensure Topic:
LMHC Educational Requirements
A degree can be accepted if it is in mental health counseling or is content equivalent. A student who began studies before the qualifying date can be licensed on the basis of a graduate degree of 45 semester hours. Depending on circumstances, the date may be July 1, 2010 or July 1, 2012. A candidate who begins on or after the qualifying date must have 60 semester hours.
Mental health counseling degrees accredited by the Council for Accreditation of Counseling and Related Educational Programs (CACREP) meet requirements. Other degrees may meet requirements, but they will need to be professionally evaluated for equivalency.
To be deemed equivalent, a program must be housed in an institution that is accredited by some agency recognized by the Department of Education.
A candidate seeking to establish equivalency on the basis of current requirements must have the following coursework:
Helping relationships
Social and cultural diversity
Human growth and development
Psychopathology
Diagnosis and treatment planning
Assessment
Group work
Career development
Research and program evaluation
Professional orientation and ethics
There must be a 100 hour practicum and 600 hour internship. The practicum must include at least 40 hours of direct service; the internship, at least 240.
There are minor differences in required courses and content for students who entered programs before July 1, 2012. Rule 645—31.6 addresses content that must be covered under each course requirement (https://www.legis.iowa.gov/docs/ACO/IAC/LINC/06-12-2013.Rule.645.31.6.pdf). Internship and practicum standards are also different. The rule states that the pre-2012 internship must be awarded at least three semester hours of credit and must be preceded by a practicum.
Supervised Experience Requirements
The mental health counseling graduate must work under supervision for the equivalent of two years (https://www.legis.iowa.gov/docs/ACO/IAC/LINC/06-12-2013.Rule.645.31.7.pdf). He or she must accrue at least 3,000 experience hours. Of these, 1,500 must be client contact hours. The candidate will need 200 hours of supervision. This may be provided by an NBCC-approved supervisor, an LMHC with three years of experience, or another professional with equivalent credentials and experience.
The first two supervision sessions are to be carried out in-person. At least 25% of the required supervision must be in-person. Up to half may be carried out by telephone; the remainder may utilize electronic devices. Experience cannot be credited unless the candidate has finished all coursework with the possible exception of a thesis. Supervision is to be guided by a written supervision plan. The experience, and plan, must meet requirements found in 645—31.7 of Board rules.
Examination Requirement
The Iowa Board will accept the National Counselor Examination (NCE) or National Clinical Mental Health Counselor Examination (NCMHCE). The Board will provide registration information to approved candidates.
Candidates registering for NBCC examinations pay $195 to the NBCC. Once the NBCC confirms eligibility, the candidate will be allowed to schedule through the test vendor, AMP.
NBCC examinations are available in monthly testing windows at nearly 200 computerized testing centers around the nation. In Iowa, they are administered in Davenport and Des Moines.
The Iowa Board will also accept the Certified Rehabilitation Counselor Examination. This is only available to counselors who have sufficient coursework and/or experience in rehabilitation counseling or clinical rehabilitation counseling (http://www.crccertification.com/pages/eligibility_requirements/69.php). There are three testing windows each year. Upcoming registration deadlines are listed on the website of the Commission on Rehabilitation Counselor Certification (http://www.crccertification.com/pages/crc_exam_schedule/83.php).
The Application Process
A candidate may apply at any of several stages. The candidate may apply for a temporary license before completing supervised practice. The Board states that the temporary license is not mandatory, due to the license exemption provided for in Iowa Code Chapter 154D.4,2,b (https://www.legis.iowa.gov/docs/ico/section/2014/154D.4.pdf). However, some employers may require it (http://www.idph.state.ia.us/licensure/BehavioralScience.aspx?pg=FAQ).
The temporary license is issued for three years. It is renewable in some instances. Temporary licenses are not issued to candidates who have met experience requirements but still need to take the examination; the examination should be completed before expiration of the temporary license.
U.S.-educated candidates who do not hold CACREP-accredited mental health counseling degrees are directed to the Center for Credentialing and Education (cce@cce-global.org). They will have their official transcripts sent to CCE. If CCE approves the education, the transcripts will be forwarded to the Iowa Board along with the approval letter. CCE can be reached at 888-817-8283.
Graduates of CACREP-accredited mental health counseling programs will have their transcripts sent to the Iowa Board.
A candidate seeking a standard licensure must submit attestation of supervision. The form is due within 30 days of conclusion.
Applicants may download the required forms (https://idph.iowa.gov/Licensure/Iowa-Board-of-Behavioral-Science/Licensure).
The application fee is currently $120. Candidates who request temporary licenses also pay $120. Candidates who must establish equivalency pay a separate fee to the evaluation agency.
Out-of-State and International Mental Health Counselors
Counselors who hold mental health counseling licenses in other jurisdictions, or have held credentials in the past, must provide official verification to the Iowa licensing agency. Web-based verification is allowable in some instances.
An out-of-state licensee must provide evidence of having met similar requirements. If an endorsement candidate is unable to provide direct evidence of supervision on the prescribed form, however, the Board may consider alternative documentation, including material supplied by the state of licensure (https://www.legis.iowa.gov/docs/ACO/IAC/LINC/06-12-2013.Rule.645.31.8.pdf).
Certification as a Certified Clinical Mental Health Counselor by the NBCC is also accepted as evidence that a candidate has met the requirement for supervised practice (https://www.legis.iowa.gov/docs/ACO/IAC/LINC/06-12-2013.Rule.645.31.7.pdf).
Internationally educated candidates will have equivalency determined by International Educational Research Foundations, Inc. (www.ierf.org). They may call IERF at 310-258-9451.
A counselor approved for licensure can verify (and print) license status online.
Additional Information
The Iowa Board of Behavioral Science can be found on the web at https://idph.iowa.gov/Licensure/Iowa-Board-of-Behavioral-Science. Applicants with questions may direct them to 515 281- 4422 or to the email address found in the application packet.
The Iowa Mental Health Counselors Association, a state professional organization, is a source of legislative information but does not issue licenses (http://www.imhca.net).
Find Mental Health Counselor Licensure Requirements in Your State: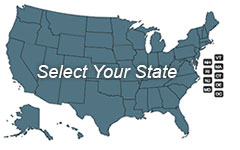 Learn about becoming a Mental Health Counselor in your state:
To View Full U.S. Map Click Here.