Mental Health Counselor Licensure Requirements in Indiana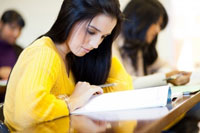 Indiana's Licensed Mental Health Counselors are under the jurisdiction of the Professional Licensing Agency, or PLA. The license is granted on the basis of graduate education, post-graduate supervised practice, and a series of examinations. Recently, Indiana has begun licensing graduates who are in the process of obtaining post-graduate experience; they go by the title Licensed Mental Health Counselor Associate.
<!- mfunc feat_school ->
Sponsored School(s)
Featured Programs:
Pepperdine University Graduate School of Education and Psychology's Master of Arts in Clinical Psychology Licensed Professional Counselor track prepares a student to become a licensed professional counselor (LPC) in various states. Graduates will first pursue licensure as an associate professional clinical counselors (APCC). Click here to learn more about the Master of Arts in Clinical Psychology program at Pepperdine University.

---

Grand Canyon University

offers an M.S. in Clinical Mental Health Counseling with an Emphasis in Childhood and Adolescence Disorders; Christian Counseling; Marriage & Family Therapy and Trauma.

---

Arcadia University

offers an Online Graduate Certificate in Infant Toddler Mental Health.

Click here

to contact Arcadia University and request information about their programs.

---

Butler University

Positively Impact Lives with a Master's Degree in Counseling - Online Master of Science in Mental Health Counseling

---

Eastern Oregon University's

online MS in Clinical Mental Health Counseling program will help you learn to utilize complex critical thinking skills in the pursuit of fulfilling work in the industry of your choice.

---

Rivier University's

online Master of Arts in Clinical Mental Health Counseling degree program offers the framework and professional training needed to start a rewarding career as a licensed clinical mental health counselor.

---
<!- /mfunc feat_school ->
Select an Indiana Mental Health Counselor Licensure Topic:
LMHC Educational Requirements
To be a mental health counselor in Indiana, one needs at least 60 graduate semester hours of education (http://www.in.gov/pla/files/IBHHSLB_2012_Edition.pdf). This must include a degree at at least the master's level. The degree itself may be comprised of as few as 48 semester hours and may be in a field related to mental health counseling such as psychology, human services, clinical social work, or a related counseling discipline; the licensing agency will accept any degree program accredited by CACREP or CORE. The degree program must include the following coursework:
The helping relationship
Social and cultural counseling foundations
Human development
Individual appraisal and assessment
Groups
Mental health counseling foundations
Mental health counseling contextual dimensions
Psychotherapy and mental health counseling knowledge and skills
Clinical instruction
Career and lifestyle development
Professional orientation and ethics
Research and program evaluation
The student will need 1,000 hours of combined practicum and internship. It is expected that this will consist of 100 hours of practicum, 600 hours of internship, and 300 hours of advanced internship. However, the total can be made without advanced internship.
Over the course of the supervised experience, the student will have at least 100 hours of supervision; an appropriate internship supervisor is a professional who is licensed as a mental health counselor, marriage and family therapist, clinical social worker, psychologist, psychiatrist, or graduate level psychiatric or mental health clinical nurse specialist.
A student who does not have the required number of hours will have to enroll in a university-sponsored internship post-degree. The Board will not allow the substitution of other post-graduate supervised practice. Nor will it credit internship or practicum experiences which primarily involved administering and scoring assessments.
The degree granting institution must hold appropriate accreditation. If located in the United States, it should be regionally accredited. If located in Canada, it should be in good standing with the Association of Universities and Colleges of Canada.
Examination Requirements
The Indiana Board requires two national examinations and a state jurisprudence examination. The National Counselor Examination (NCE) and the National Clinical Mental Health Counseling Examination (NCMHCE) are both administered by the National Board for Certified Counselors (NBCC). The NCE is taken when one is in candidacy for licensure at the associate level. The NCMHCE is not taken until after post-graduate supervision requirements have been met. Candidates will apply to the PLA and wait for approval before submitting registration materials to the NBCC. Once approved, they may call AMP at 888-519-9901 to schedule.
The fee is currently $195. Registration and fee payment grants a six month eligibility period. Computerized testing is available on a monthly basis in four Indiana cities: Indianapolis, Fort Wayne, Evansville, and Mishawaka. Candidate handbooks can be downloaded from the "Indiana" page of the NBCC website (http://www.nbcc.org/directory/IN).
A candidate who fails an examination attempt is allowed to retest following submission of a re-examination application and applicable fees; the NBCC imposes a three month wait period. After three failed examination attempts, however, an Indiana candidate will need to appear before the board.
A candidate for licensure at either level is also required to take an examination of laws, rules, and practice standards. A candidate who has been approved for examination will receive a copy of the jurisprudence examination in the mail.
Post-Graduate Supervised Experience Requirements
The graduate must accrue another 3,000 hours of supervised experience at the post-master level. The Board requires a minimum of 21 months of supervise postgraduate practice; a candidate may take up to 48 months to complete the requirement.
The associate will need 100 hours of face-to-face supervision over the course of the experience period. Supervision may be provided by a Licensed Mental Health Counselor or a professional with equivalent credentials who is acceptable to the board.
An individual who renews an associate license must demonstrate 20 hours a year of continuing education.
The Application Process
Students who graduate on or after July 1, 2014 are required to apply for licensure at the associate level. They are allowed to accrue only limited hours before; according to Indiana code, a person must take the first available examination in order to credit hours earned before (http://www.in.gov/pla/3444.htm). Students who graduated and began supervised practice before July 2014 have the option of applying for associate licenses. An individual who continues on to doctoral study after receiving a master's degree also has the option of applying for associate status but is not required to do so.
A candidate must provide an official transcript at first application; transcripts are to be sent directly to the PLA from the issuing institution. Practicum and internship experiences will also need primary source verification.
The applicant will need a professional quality two by three photograph.
The PLA requires verification of all health licenses, past and present.
Application materials can be downloaded from the PLA site (http://www.in.gov/pla/2888.htm). There is a separate link for materials at the associate and professional level. Application carries a $50 fee.
Out-of-State Mental Health Counselors
In order to qualify for endorsement, a counselor must have an active license or certification and three recent years of active practice. An out-of-state mental health counselor who qualifies for endorsement will not have to take or retake the examination provided that an equivalent one has been passed. However, education and experience requirements must still be met.
An out-of-state counselor who is going through the examination process can be issued a temporary permit. There is an additional $25 fee for the permit.
A temporary permit can be renewed only in circumstances where, for good cause, the candidate was unable to take the examination.
Additional Information
Applicants may contact the Indiana Professional Licensing Agency (http://www.pla.in.gov/) by telephone at (317) 234-2064 or by email at pla5 at pla.in.gov.
Find Mental Health Counselor Licensure Requirements in Your State: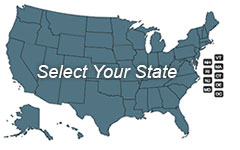 Learn about becoming a Mental Health Counselor in your state:
To View Full U.S. Map Click Here.