Mental Health Counselor License Requirements in Illinois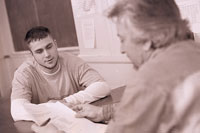 Illinois mental health counselors hold credentialing as Licensed Clinical Professional Counselors, or LCPCs. The LCPC is the state's highest counseling license. LCPCs are licensed on the basis of education, supervised practice, and examination. Mental health counseling certification through the National Board for Certified Counselors is an alternate method of documenting that these requirements have been met.
<!- mfunc feat_school ->
Sponsored School(s)
Featured Programs:
Pepperdine University Graduate School of Education and Psychology's Master of Arts in Clinical Psychology Licensed Professional Counselor track prepares a student to become a licensed professional counselor (LPC) in various states. Graduates will first pursue licensure as an associate professional clinical counselors (APCC). Click here to learn more about the Master of Arts in Clinical Psychology program at Pepperdine University.

---

Grand Canyon University

offers an M.S. in Clinical Mental Health Counseling with an Emphasis in Childhood and Adolescence Disorders; Christian Counseling; Marriage & Family Therapy and Trauma.

---

Arcadia University

offers an Online Graduate Certificate in Infant Toddler Mental Health.

Click here

to contact Arcadia University and request information about their programs.

---

Butler University

Positively Impact Lives with a Master's Degree in Counseling - Online Master of Science in Mental Health Counseling

---

Eastern Oregon University's

online MS in Clinical Mental Health Counseling program will help you learn to utilize complex critical thinking skills in the pursuit of fulfilling work in the industry of your choice.

---

Rivier University's

online Master of Arts in Clinical Mental Health Counseling degree program offers the framework and professional training needed to start a rewarding career as a licensed clinical mental health counselor.

---
<!- /mfunc feat_school ->
Select an Illinois LCPC Licensure Topic:
Educational Requirements
The student must have a degree at the master's level or higher, awarded by a regionally accredited institution (http://www.ilga.gov/commission/jcar/admincode/068/068013750B01450R.html). Master's programs must be at least two years in length and award, at minimum, 48 semester hours.
The program may be in counseling or psychology. The licensing agency will accept counseling programs accredited by the Council on Accreditation for Counseling and Related Educational Programs (CACREP) as meeting all requirements; the same goes for doctoral level programs accredited by the American Psychological Association (APA) or the National Register of Health Service Providers in Psychology. Programs accredited by the Council on Rehabilitation Education (CORE) are accepted; however, this accreditation typically signals a program in rehabilitation counseling.
Programs that do not hold a recognized accreditation must meet Board standards. There must be a sequential program delivered to an identifiable group of matriculated students. The student must spend a year (or the equivalent) in residency; 24 semester hours taken on a part-time basis will meet this requirement.
Any student graduating from 2008 onward must demonstrate one course in each of the following subjects:
Counseling theory
Counseling techniques
Human growth and development
Appraisal of individuals
Psychopathology/ maladaptive behavior
Group dynamics, processing counseling
Lifestyle and career development
Family dynamics
Social and cultural foundations
Counseling legal, ethical, and professional responsibilities
Substance abuse
Research and evaluation
Practicum/ internship
Ethical and legal responsibilities coursework should include coverage of Illinois law.
Practicum should be at least 100 hours; internship, at least 600.
Qualifying courses may go by various titles. Developmental psychology, adolescent development, and personality theory would all be creditable as meeting the human growth and development requirement. Behavior modification, grief therapy, and crisis counseling would all be creditable as meeting the counseling techniques requirement. Appendix A of the Professional Counseling Rules includes a description of each content area as well as a partial list of course titles (http://www.ilga.gov/commission/jcar/admincode/068/06801375ZZ9996aR.html).
Students who have deficiencies in required coursework may meet them post-degree; coursework taken as part of a counseling or psychology program may be credited.
LPC Licensure
At the close of a qualifying graduate program, a counselor may seek licensure as a Licensed Professional Counselor (LPC). Coursework requirements are the same. The LPC candidate will need to pass the National Counselor Examination (NCE), administered by the National Board for Certified Counselors. Some students do so before graduation.
The Illinois Mental Health Counselors Association notes that holding the LPC license is not a mandatory part of the process. The Professional Counseling Act references a licensing exemption for individuals who are working toward meeting licensing requirements while under appropriate supervision and who meet other requirements that may be imposed by rule (https://www.idfpr.com/renewals/ProfCouns.asp).
However, a counselor who holds an LPC license may credit volunteer service toward the work experience requirement.
Experience Requirements
A master's level graduate will need to work under supervision for the equivalent of two full-time years (http://www.ilga.gov/commission/jcar/admincode/068/068013750B01300R.html).
An individual licensed on the basis of a doctoral degree will need a total of two years of supervised experience, but only one need be post-degree. Internship may be credited.
A year must take place over at least 48 weeks and include at least 960 face-to-face client service hours. 1,680 total hours may be figured as a year.
The individual must work under a qualified supervisor who may be licensed as a clinical professional counselor, clinical psychologist, clinical social worker, or psychiatrist.
The supervisee is to have at least an hour a week of face-to-face supervision. Group supervision sessions may include up to five counselors; individual sessions, two.
The professional will be evaluated for licensing purposes.
The Examination Process
LCPC candidates must pass the National Clinical Mental Health Counseling Examination (NCMHCE). They will need to submit examination applications to the Illinois Department. They will also need to register with Continental Testing Service (CTS) and pay a $98 fee. Only then will they be allowed to register with the National Board for Certified Counselors; the examination itself costs $195.
Examinees may schedule at any authorized AMP testing site in the nation. There are ten sites in Illinois:
Buffalo Grove
Carbondale
Chicago
Franklin Park
Glen Ellyn
Matteson
Rockford
Naperville
Springfield
Urbana
CTS can be reached at 800-359-1313. The NBCC can be reached at 336-217-4111. The registration process is outlined on the 'Illinois' page of the NBCC website (http://www.nbcc.org/directory/IL).
A three month wait period is imposed after a failed examination attempt; the candidate will again need to remit testing fees.
A candidate who has already taken the NCMHCE but does not hold certification may have verification sent directly to the Illinois licensing agency.
The Application Process
Application packets can be downloaded from the site of the Illinois Department of Financial & Professional Regulation (https://www.idfpr.com/renewals/defaultssl.asp).
Some documents must be completed by third parties.
The applicant must provide certification of education, completed by a school official. Students who attended programs that did not hold one of the recognized accreditations will also need to submit course descriptions and official transcripts; they will complete academic criteria forms outlining which courses met which requirements.
The employment verification must be completed by the appropriate professional.
The application fee is $150.
Applicant may make status inquiries by telephone after six weeks.
Out-of-State Counselors
Out-of-state counselors are required to provide license verification from the original state of licensure and, if different, the current state of licensure/ practice (http://www.ilga.gov/commission/jcar/admincode/068/068013750B01600R.html). The application form references the 'most recent' state of practice.
The Board requires out-of-state counselors to meet educational and examination requirements. They must have at least two years of experience under supervision/ direction.
Alternate Pathway: NBCC Certification
Counselors who hold the NBCC Certified Clinical Mental Health Counselor (CCMHC) credential are deemed to meet education, experience, and examination requirements.
The CCMHCE requires 3,000 hours of clinical experience as well as successful examination performance (http://www.nbcc.org/Certification/CertifiedClinicalMentalHealthCounselor). 60 semester hours is the general academic expectation, but there are alternate pathways.
Additional Information
LCPC licensing information can be found on the site of the Illinois Department of Financial & Professional Regulation (https://www.idfpr.com/renewals/ProfCouns.asp).
Applicants may call 1-800-560-6420 for assistance. Those who are applying on the basis of examination may call 708-354-9911.
The Illinois Mental Health Counselors Association is an additional professional resource (www.imhca.org). IMHCA does not issue licenses, but has provided a summary of the licensing process.
Find Mental Health Counselor Licensure Requirements in Your State: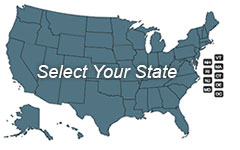 Learn about becoming a Mental Health Counselor in your state:
To View Full U.S. Map Click Here.