Mental Health Counseling Licensure in Alaska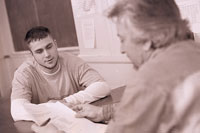 Alaska mental health counselors are licensed by the Alaska Board of Professional Counselors as Licensed Professional Counselors. The license is generic and may be attained by counselors with specialties other than mental health. However, counselors are required to provide disclosure statements that let prospective clients know the area of specialization and the services provided.
Adjunct mental health certification can be earned through a third party.
<!- mfunc feat_school ->
<!- /mfunc feat_school ->
Select an Alaska Mental Health Counselor Licensure Topic:
Educational Requirements for Counseling License
A licensee must have education at at least the master's level. Alaska will accept a degree in counseling or in a related field such as psychology, social work, or applied behavioral health (https://www.commerce.alaska.gov/web/Portals/5/pub/CounselorStatutes.pdf). The degree is to be completed through a regionally accredited institution or through a program that is nationally accredited by the Council for Accreditation of Counseling and Related Educational Programs (CACREP). A candidate must provide transcripts demonstrating at least 60 semester hours of study. It is acceptable for some hours to be earned after the conferral of the master's degree; the Board notes that the hours can be earned online.
If the school held accreditation through an organization not explicitly recognized by the Alaska Board, or the degree was not in counseling per se, the candidate will need to document that at least eight of the following content areas were covered:
Human growth and development
The helping relationship
Groups (dynamics, processes, counseling, consulting)
Mental disorders and dysfunctional behavior (etiology, diagnosis, treatment planning, prevention)
Individual assessment, appraisal, and testing
Marital and family therapy
Counseling orientation and ethics
Career and lifestyle development
Social and cultural foundations
Research and evaluation
Ethics coursework is now mandatory. The candidate must demonstrate at least three semester hours.
Students may want to take into account the fact that while CACREP accreditation is not required for licensure, some government programs reimburse services only for counselors who have completed programs accredited by CACREP.
Supervised Practice Requirements
The graduate will need to accrue 3,000 hours of supervised experience; at least 1,000 must involve direct counseling. The trainee will need at least 100 hours of supervision provided by a Board-approved supervisor. The supervisor may be licensed as a counselor or as a marriage and family therapist, clinical social worker, psychologist, psychiatrist, physician, or advanced practice nurse. Supervisors must receive approval from the board before commencing supervision. A list of supervisors who have current approval is available on the Board site (https://www.commerce.alaska.gov/web/cbpl/ProfessionalLicensing/ProfessionalCounselors.aspx).
Supervision is normally conducted face-to-face, but in the cases of counselors who serve in remote areas of the state, the Board may approve use of other modalities.
The supervisor will eventually provide a notarized statement to the Board; the form includes questions about the supervisee's competence and ethical fitness.
Examination Requirement
Candidates must pass a written examination. Normally, this is the National Counselor Examination for Licensure and Certification (NCE), administered by the National Board for Certified Counselors (NBCC). The Alaska Board has provided a copy of the Alaska examination form (https://www.commerce.alaska.gov/web/cbpl/ProfessionalLicensing/ProfessionalCounselors/Examination.aspx). Candidates will apply directly to the NBCC, submitting official transcripts with their applications. They must also remit a $195 fee.
Once eligibility has been determined, the candidate will receive scheduling information. The examination is administered by computer, and is generally available two weeks out of the month. The one Alaska testing center is in Anchorage. The candidate must take the examination within six months of eligibility. A candidate who fails an examination attempt may make another attempt after three months have passed.
The NBCC provides a license information page for Alaska (http://www.nbcc.org/directory/AK). Study resources are also available at the NBCC site.
The Alaska Board notes that equivalent examinations can also be accepted (http://commerce.alaska.gov/dnn/Portals/5/pub/CounselorStatutes.pdf).
The Application Process
Applications are available on the Board site (https://www.commerce.alaska.gov/web/cbpl/ProfessionalLicensing/ProfessionalCounselors/ApplicationsForms.aspx). Applicants will need to have a criminal history records check through the Department of Public Safety, Criminal Records and Identification (R & I) Bureau. A list of locations is available in the application packet. In the case of applicants who are not Alaska residents, a report should come from the state of residence.
There is a $125 application fee. There is also a $400 license fee, but candidates may opt to delay payment until after they have passed the required examination.
Those applying for initial licensure by examination must provide letters of recommendation from professional counselors. The professionals who fill out the forms will submit them directly to the Board. The application form itself must be notarized.
A candidate who is in default on a student loans or arrears on child support can be issued a temporary license; this license is nonrenewable.
Out-of-State Counselors
Counselors must provide verification from all states where they have been licensed. Counselors who are currently licensed in other jurisdictions may be licensed by credential provided the other state has requirements that are equivalent or higher. Counselors from states that require fewer than 60 semester hours of graduate education must provide transcripts documenting that they have met the 60 semester hour requirement.
An endorsement candidate must provide a criminal records check from the state of licensure. Any candidate who has resided in Alaska for less than a year must provide a criminal background check from the state of recent residence; this is in addition to the required report from the Alaska Department of Public Safety.
Mental Health Certification
Counselors may pursue third party certification as an additional validation of competence in mental health counseling. The NBCC offers the Certified Clinical Mental Health Counselor credential (http://www.nbcc.org/Specialties/CCMHC). Certification is dependent on passing an examination specifically focused on mental health counseling, the National Clinical Mental Health Counseling Examination (NCMHCE). Counselors may pursue the credential after earning their 3,000 supervised experience hours and either attaining licensure or achieving certification as a National Certified Counselor; the latter is based largely on passing the NCE.
Unlicensed candidates from programs not accredited by CACREP will need to submit a tape of a counseling session or document a full two years of supervised experience beyond the required 3,000 hours.
Additional Information
Additional information can be found on the site of the Alaska Board of Professional Counselors (https://www.commerce.alaska.gov/web/cbpl/ProfessionalLicensing/ProfessionalCounselors.aspx). The licensing coordinator can be reached by telephone at (907) 465-2551.
The Alaska Counseling Association is an additional resource (http://alaskacounseling.org).
Find Mental Health Counselor Licensure Requirements in Your State: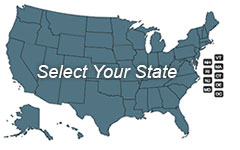 Learn about becoming a Mental Health Counselor in your state:
To View Full U.S. Map Click Here.