Mental Health Counselor Licensure in Alabama
Alabama mental health counselors are licensed as Licensed Professional Counselors; they go by the title 'LPC'. The LPC license is generic and may be earned by counselors in related disciplines like rehabilitation counseling, career counseling, and even art therapy. However, Board administrative rule stipulates that counselors limit their practice to areas where they have adequate training (http://www.abec.alabama.gov/PDFs/9-10/255-X-2.pdf).
Counselors may also seek third party certification in mental health counseling.
<!- mfunc feat_school ->
Sponsored School(s)
Featured Programs:
Pepperdine University Graduate School of Education and Psychology's Master of Arts in Clinical Psychology Licensed Professional Counselor track prepares a student to become a licensed professional counselor (LPC) in various states. Graduates will first pursue licensure as an associate professional clinical counselors (APCC). Click here to learn more about the Master of Arts in Clinical Psychology program at Pepperdine University.

---

Grand Canyon University

offers an M.S. in Clinical Mental Health Counseling with an Emphasis in Childhood and Adolescence Disorders; Christian Counseling; Marriage & Family Therapy and Trauma.

---

Arcadia University

offers an Online Graduate Certificate in Infant Toddler Mental Health.

Click here

to contact Arcadia University and request information about their programs.

---

Butler University

Positively Impact Lives with a Master's Degree in Counseling - Online Master of Science in Mental Health Counseling

---

Eastern Oregon University's

online MS in Clinical Mental Health Counseling program will help you learn to utilize complex critical thinking skills in the pursuit of fulfilling work in the industry of your choice.

---

Rivier University's

online Master of Arts in Clinical Mental Health Counseling degree program offers the framework and professional training needed to start a rewarding career as a licensed clinical mental health counselor.

---
<!- /mfunc feat_school ->
Select an Alabama Mental Health Counselor Licensure Topic:
Educational Requirements
Counselors must earn graduate degrees comprised of no fewer than 48 semester hours or 72 quarter hours. The degree program may be accredited by the Council for Accreditation of Counseling and Related Educational Programs (CACREP) or the Commission on Rehabilitation and Education (CORE). The Alabama Board will also accept non-accredited programs that meet minimum content standards. The student will need coursework in 1) human development 2) social and cultural foundations 3) counseling theory 4) the helping relationship 5) group dynamics, processing, and counseling 6) individual appraisal 7) lifestyle and career development 8) professional orientation and 9) research and evaluation.
The student will also need practicum and internship experiences. Practicum is to comprise at least 100 hours and include at least 40 hours of direct service. Internship is to comprise at least 600 hours and include at least 40 hours of direct service.
Examination Requirements
Alabama requires a licensing examination. In most cases, this is the National Counselor Examination (NCE), developed and administered by the National Board for Certified Counselors. The Alabama Board can authorize examination after reviewing academic documentation. (This is typically submitted at the associate level.)
The $195 fee is to be remitted directly to the NBCC. The candidate will also submit the approval letter that was issued by the Alabama Board (http://www.nbcc.org/directory/AL).
The candidate will wait approximately four weeks for confirmation. The next step is to schedule an examination through AMP (www.goAMP.com). There are computerized testing sites throughout the nation. In Alabama, centers are located in Athens, Birmingham, Huntsville, Mobile, and Montgomery. Computer-based examinations are offered two weeks out of each month at participating sites.
A candidate who fails an examination attempt will need to request a new registration form from the Alabama Board. Re-registration entails payment of a second $195 fee.
Counselors may be licensed on the basis of other examinations, taken for licensure purposes in other states. The Alabama Board will accept, for example, the National Clinical Mental Health Counseling Examination (NCMHCE).
Experience Requirements
Counselors must complete post-degree supervised practice. They are under Board jurisdiction during this time; the qualifying credential is called Associate Licensed Counselor (ALC). If the counselor has no qualifying education beyond the master's level, the experience requirement is 3,000 hours, to be comprised of 2,250 hours of direct counseling and 750 hours of indirect service (http://www.abec.alabama.gov/PDFs/9-10/255-X-3-01.pdf). Fifteen additional graduate semester hours (or the equivalent quarter hours) can reduce the requirement to 2,000 hours. Further graduate education can reduce the requirement to 1,000 hours; all ALCs must accrue at least this minimum. Education is only accepted for substitution in cases where the candidate has already met licensing requirements.
An ALC is to have at have at least 100 hours of annual supervision under a Supervising Counselor; at least 50 hours are to consist of individual face-to-face supervision. A Supervising Counselor is a professional who has at least five years of experience at the LPC level, has completed supervision training, and has been explicitly approved by the Board. The Board will consider alternative supervision under some circumstances (http://www.abec.alabama.gov/PDFs/12_06_RuleChgs/255-X-3-04.pdf).
The ALC license is renewed on an annual basis (http://www.abec.alabama.gov/PDFs/10-2012/255-X-7-.02.pdf). The associate must complete a continuing education requirement. ALCs are subject to annual reports.
The Application Process
An in-state candidate applies at the associate level. Application materials are available on the ABEC site (http://www.abec.alabama.gov/PDFs/LPC_Materials/AcademicPrereqPolicy09.pdf). The candidate will request that the degree-granting institution send transcripts directly to ABEC. Three recommendations are due at this time; at least two are to come from supervisors. Applicants are expected to read the administrative rules and the code of ethics.
The application includes an affidavit that requires notarization. A $200 fee must accompany the application; the licensing fee will be assessed later.
Graduates of non-accredited programs must document that their courses covered the required content. The Board notes that candidates generally submit syllabi, but that there are alternate methods when too much time has passed and the syllabi are no longer available (http://www.abec.alabama.gov/PDFs/LPC_Materials/AcademicPrereqPolicy09.pdf).
The Board requires submission of a supervision plan. However, the plan does not have to accompany the initial application; the academic review can be carried out without it.
Counselors who are currently licensed in other jurisdictions may apply by endorsement. They will need to demonstrate that they were licensed on the basis of substantially similar standards. Minimum requirements will vary, as Alabama has had different standards in place at different points in time. Counselors who were licensed before September 1, 2003 can be licensed on the basis of regulations that required master's programs of only 30 semester hours.
Prior to September 1, 1994, it was necessary to document coursework in only three content areas. Endorsement requirements are summarized in a table in the endorsement application packet (http://www.abec.alabama.gov/PDFs/2012/LPCEndorsementApp06-22-12.pdf).
Counselors who cannot demonstrate equivalency of licensing requirements can be licensed on the basis of the coursework that they have actually taken.
Mental Health Counselor Certification
Mental health counselors can also pursue third party certification through the National Board for Certified Counselors (http://www.nbcc.org/Specialties/CCMHC). Candidates who are not yet fully licensed must complete 3,000 experience hours prior to certification. Those who have not completed 60 semester hour programs must do additional education or training to make up for deficits. All candidates must pass the NCMHCE.
Additional Information
The Alabama Board of Examiners in Counseling (http://www.abec.alabama.gov) can be reached at 205-458-8716.
Find Mental Health Counselor Licensure Requirements in Your State: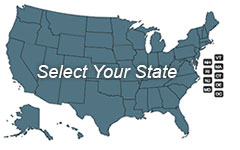 Learn about becoming a Mental Health Counselor in your state:
To View Full U.S. Map Click Here.