Undergraduate Psychology Degrees: Undergraduate preparation for graduate study in counseling
Psychology as undergraduate preparation for a career in counseling? Yes! Psychology programs are among the most closely related undergraduate degrees and a popular choice for would-be counselors. They are a popular choice for college students in general, accounting for 6% of the undergraduate degrees awarded in 2011 to 2012 (https://www.apa.org/ed/precollege/about/enrollment).
<!- mfunc feat_school ->
Sponsored School(s)
Featured Programs:
Pepperdine University Graduate School of Education and Psychology's Master of Arts in Clinical Psychology Licensed Professional Counselor track prepares a student to become a licensed professional counselor (LPC) in various states. Graduates will first pursue licensure as an associate professional clinical counselors (APCC). Click here to learn more about the Master of Arts in Clinical Psychology program at Pepperdine University.

---

Grand Canyon University

offers an M.S. in Clinical Mental Health Counseling with an Emphasis in Childhood and Adolescence Disorders; Christian Counseling; Marriage & Family Therapy and Trauma.

---

Arcadia University

offers an Online Graduate Certificate in Infant Toddler Mental Health.

Click here

to contact Arcadia University and request information about their programs.

---

Butler University

Positively Impact Lives with a Master's Degree in Counseling - Online Master of Science in Mental Health Counseling

---

Eastern Oregon University's

online MS in Clinical Mental Health Counseling program will help you learn to utilize complex critical thinking skills in the pursuit of fulfilling work in the industry of your choice.

---

Rivier University's

online Master of Arts in Clinical Mental Health Counseling degree program offers the framework and professional training needed to start a rewarding career as a licensed clinical mental health counselor.

---
<!- /mfunc feat_school ->
Psychology programs are among the most closely related undergraduate degrees and a popular choice for would-be counselors.
Undergraduate psychology programs aren't solely about learning about psychological disorders or how to help people, and the American Psychological Association is quick to disavow those who think they are. Programs introduce students to a very broad discipline. Students gain a foundation in the biological, social, and cognitive aspects of behavior. Developing this psychology knowledge base is only part of the goal. The APA has identified four additional goals (http://www.apa.org/ed/precollege/about/psymajor-guidelines.pdf):
Scientific inquiry/ critical thinking
Communication
Social and ethical responsibility
Professional development
Psychology students learn many of the same things that other liberal arts students learn: critical thinking, writing, and research. Unlike some of their peers, they get to apply their skills in a social science context. Research, after all, will have some role in the life of a graduate student — and the life of a counselor. Master's level counselors don't typically carry out a lot of independent research, but they are expected to use research to inform their professional decisions.
Managing Expectations
There are some potential pitfalls. Students sometimes enter undergraduate psychology programs thinking they can practice as counselors once they have the B.S. or B.A. in hand (http://www.cogdop.org/page_attachments/0000/0200/FLA_White_Paper_for_cogop_posting.pdf). Unrealistic expectations can lead to disappointment. Psychology study produces psychologically literate individuals who apply their skills to everything from parenting to voting (http://www.psychologicalscience.org/index.php/publications/observer/2010/march-10/major-developments-in-undergraduate-psychology.html). A bachelor's degree is sufficient education for many careers, from human resources advisor to disability case manager (http://www.apa.org/ed/precollege/about/psymajor-guidelines.pdf). Licensed professional counselors and marriage and family counselors, though, spend more years in school.
There are more undergraduate psychology students than there are graduate level therapy slots, and, as in other fields, it's more competitive at the graduate level. Pacomes down to grades and having a GPA that's above that 3.0 minimum that many programs seek. But it's also about taking advantage of opportunities — and undergraduate psychology programs offer plenty of these.
Making the Most of Opportunities
Many programs offer internship opportunities. Internships can offer advantages over simply calling a human service agency and asking to volunteer. University-supervised internships offer more guidance. There may even be a concurrent seminar where you can discuss your experiences with other students and get a small taste of the supervision process. University-supervised internships can translate into strong references when it comes time to apply to grad school. It's important to realize that not all schools will provide the same level of support in attaining internships. Some, though, mandate them.
University-supervised internships can translate into strong references when it comes time to apply to grad school.
Bachelor's programs in psychology, unlike doctoral programs, do not have a program-level accrediting agency. This means they can be very varied! There may be opportunities to explore electives as diverse as women's mental health to neuropsychology to survey methodology. Some programs offer specialized tracks like developmental psychology or even clinical psychology. If you select a concentration in "clinical psychology" at the undergraduate level, you will not become a clinical psychologist. However, you may get an introduction to clinical methods as well as service-oriented capstone projects and seminars.
Your education isn't limited to what appears on your course schedule or your transcript. As a psychology major, there are a lot of organizations you can put behind you. Your campus may have a psychology club, honor society, and/ or a student chapter of the American Psychological Association. Psychology is a popular major with a lot of students who are passionate about service and passionate about increasing their grad school prospects.
The American Psychological Association has resources to help undergraduate students make the most of their psychology degrees (https://www.apa.org/education/undergrad/student-research). You can learn to write social science research papers, master APA style, and even locate prestigious summer internships.
Find Mental Health Counselor Licensure Requirements in Your State: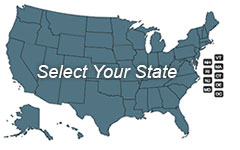 Learn about becoming a Mental Health Counselor in your state:
To View Full U.S. Map Click Here.