Human Service Degrees: Preparation for Mental Health Counseling Graduate Programs
Human services degree programs are for people who want to spend their days helping individuals who are challenged by poverty, disabilities, addictions, or other life circumstances — and who want those careers in the relatively near future, after they have that first degree in hand. Grad school may or may not be on the bucket list.
<!- mfunc feat_school ->
Sponsored School(s)
Featured Programs:
Pepperdine University Graduate School of Education and Psychology's Master of Arts in Clinical Psychology Licensed Professional Counselor track prepares a student to become a licensed professional counselor (LPC) in various states. Graduates will first pursue licensure as an associate professional clinical counselors (APCC). Click here to learn more about the Master of Arts in Clinical Psychology program at Pepperdine University.

---

Grand Canyon University

offers an M.S. in Clinical Mental Health Counseling with an Emphasis in Childhood and Adolescence Disorders; Christian Counseling; Marriage & Family Therapy and Trauma.

---

Arcadia University

offers an Online Graduate Certificate in Infant Toddler Mental Health.

Click here

to contact Arcadia University and request information about their programs.

---

Butler University

Positively Impact Lives with a Master's Degree in Counseling - Online Master of Science in Mental Health Counseling

---

Eastern Oregon University's

online MS in Clinical Mental Health Counseling program will help you learn to utilize complex critical thinking skills in the pursuit of fulfilling work in the industry of your choice.

---

Rivier University's

online Master of Arts in Clinical Mental Health Counseling degree program offers the framework and professional training needed to start a rewarding career as a licensed clinical mental health counselor.

---
<!- /mfunc feat_school ->
Can a person with a degree in human services go on to graduate level study in fields like counseling? Absolutely!
A bachelor's degree won't qualify you for private practice and won't make you into a psychotherapist, but there are many other human service job roles. The National Institute for Human Services lists the following among human service job titles: case worker, child advocate, juvenile court liaison, intake interviewer, group home worker, residential manager, alcohol counselor, life skills instructor, probation officer, and community organizer.
Some human service degree programs offer preparation for certifications and state-issued licenses in addiction counseling or other counseling-related fields. The International Consortium for Reciprocity and Certification (IC&RC) offers a bachelor's level credential in service delivery with individuals who have concurrent disorders; this particular credential is offered in approximately 20 states.
A crucial step in the certification process is attaining experience. Practicum and internship experiences arranged through human service degree programs can be a first step. Just moving on to the internship experience can depend on satisfactory performance and display of professionalism — but from there, the path may seem shorter.
Considering pursuing an undergraduate degree in human services? Here are some things to keep in mind.
Program Considerations: Accreditation
Institutional accreditation is integral. If the school itself is regionally accredited, there will be more options down the line. In the field of human services, programmatic accreditation isn't tied to credentialing; it's not fundamental. Still you may be interested in programs accredited by the Council for Standards in Human Service Education, or CSHSE (http://www.cshse.org).
The CHSE has a long history. The standard setting process began back in the 1970s with a survey funded by the National Institute for Mental Health. Graduates of CHHSE programs have an easier time attaining one particular credential, the Human Services-Board Certified Practitioner. As with other voluntary certifications, the value depending on job title and hiring agency.
Institutional accreditation is integral. If the school itself is regionally accredited, there will be more options down the line.
It is important to distinguish human services from social work. Some states license baccalaureate level social workers. Here program-level accreditation is more fundamental. Social work programs follow the curricular standards of the Council for Social Work Education (CSWE).
Program Considerations: Career Preparation
Human service degrees may be generalist or may offer preparation for specific roles like addiction counseling or geriatric services. Some concentrations may help you make the school-work transition in a particular arena. However, just because you select a particular focus, it won't mean you won't leave with transferable skills. The National Institute for Human Services cites the following among the general competencies:
Understanding human systems
Understanding conditions which foster or limit human functioning
Identifying, planning, implementing, and appropriate interventions
Process skills (communication, relationships, and time management)
Considering Higher Degrees
Can a person with a degree in human services go on to graduate level study in fields like counseling? Absolutely! Admission committees value relevant experience, demonstrated commitment, and professional references. A student who is considering graduate school may seek a little more academic rigor than one who isn't – this may mean going beyond the minimum standards required for graduation.
It's important that the curriculum offer enough preparation in areas like research; you will need to develop the skills to be, at the minimum, a savvy consumer of research. However, a master's level counseling applicant isn't expected to have the level of research proficiency of a PhD psychology applicant. In some cases, the hands-on skills will be of more value.
Find Mental Health Counselor Licensure Requirements in Your State: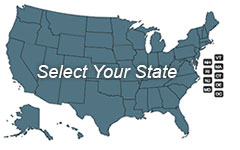 Learn about becoming a Mental Health Counselor in your state:
To View Full U.S. Map Click Here.